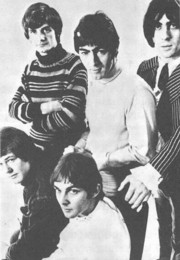 Adaptable Melbourne band whose career ranged from Shadows-style instrumentals to comic jugband revivals. See Moon In The Afternoon (1964), I've Been Trying (1965), and Minnie The Moocher (1967).
Cherokees guitarist Pete 'Rattlebone' Tindal, now in the UK, runs Bluesola Music. Its website includes a section featuring the The Cherokees' music and history as well as Pete's own solo recordings.
Thanks to Pete Tindal.
---
Ted Weems And His Orchestra - Oh, Mo'nah (1931)
Also recorded Oh, Monah – without the apostrophe – in 1941, presumably the same song.
No relation to the Bo Diddley song, Mona, also recorded by The Rolling Stones.
---