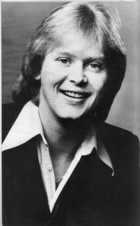 Double-sided hit in Perth and Brisbane with Mr Whippy. Co-charted in Melbourne and Brisbane with the Three Dog Night (USA) version.
Johnny Farnham: enduring Melbourne pop star whose career took off after his first single, the neo-vaudeville novelty Sadie The Cleaning Lady, was skilfully publicised and became the best-selling Australian single of the 60s. He had a run of hits into the first half of the 70s, and branched out into TV and stage drama.
In the early 80s, by then known as John Farnham, he had a further hit with a powered-up version of the Beatles' Help, and he fronted the Little River Band for a time. His real career revival came in 1986 with the hugely popular contemporary album Whispering Jack and its three hit singles including the #1 You're The Voice.
Further reading: Milesago's John Farnham page. The official site is at JohnFarnham.com.au.
---
---
Three Dog Night - One (1969)
Co-charted in Melbourne and Brisbane with Australian version by Johnny Farnham.
---
Aimee Mann - One (1995)
From the 1995 tribute album For the Love of Harry: Everybody Sings Nilsson
Later used on the soundtrack of the film Magnolia (1999)
---
Metallica - One (1989)
Same title but not the same song as 'One' by Johnny Farnham.
Live version, also charted in 1994.

Other charting red herrings:
U2 One (Bono-Adam Clayton-The Edge-Larry Mullen, Jr.), UK 1991, #4 Sydney #10 Adelaide #9 Perth #3 NZ
Mica Paris One (Bono-Adam Clayton-The Edge-Larry Mullen, Jr.), UK 1995, #39 Adelaide