On the Vicars' first single, initially released as a B-side on independent label ZOT (also 1967), then as an A-side on Leedon (see the screenshot there with spelling Watcha). Writer credits are to Payne-Carroll, as on Doris Troy's original.
This is the Wollongong, NSW band that featured David Rossall, a recent immigrant from the UK who had been a member of Blackpool band, Bruce & The Spiders.
They should not be confused with the UK band from Blackpool called Rev Black and the Rockin' Vickers (aka The Vicars, also as Rocking). The Blackpool Vickers/Vicars are perhaps best remembered for I Go Ape (1964) and for the presence of Ian Willis/Kilmister, later known as Lemmy of Hawkwind and Motorhead.
Terry Stacey, at his Aussie Vicars page [archived], argued convincingly that it was "a myth" that Rossall had been with the British Vickers/Vicars: Dave was definitely never a member of the UK Rockin' Vickers although he apparently admired them a lot.
The Australian Vicars were also known as R Black and the Rockin' Vs out of some late 60s squeamishness about taking the mickey out of the clergy.
See also Down To The Last 500 (1969).
Reference: Terry Stacey's site devoted to the Australian Vicars, the definitive source on the band which included a detailed history and ground-breaking research into David Rossall's supposed connection with the UK Vicars. [Link is to archived site.]
Further reading: The original Manchesterbeat website generously included a page on the Australian Rockin' Vicars as well as the British band. [Links are to pages at Internet Archive. The original site is being redeveloped.]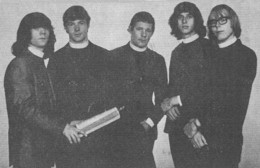 Image: The Wollongong Vicars.
---
Doris Troy - What'cha Gonna Do About It (1964)
Single on Atlantic. Writer credits on the label are to Payne-Carroll, but BMI also lists Garvin.
New York-born singer-songwriter Doris Troy (1937-2004) charted in the US with Just One Look (1963, #10), also a hit in 1964 for The Hollies. She moved to Britain after What'cha Gonna Do About It charted there in 1964-65. She became a regular on the Ready Steady Go TV show and was signed to the Beatles' Apple label. As a background singer Doris Troy worked, for example, with Dionne Warwick, Dusty Springfield, Pink Floyd (Dark Side Of The Moon) and Nick Drake (Poor Boy on Bryter Later).
Doris Troy with Gregory Carroll, a co-writer on What'cha Gonna Do About It, also wrote Just One Look and Be Sure, recorded in Australia by Lynne Randell.
In 1953 Gregory Carroll had replaced a founding member of R&B ballad group The Orioles (Crying In The Chapel, 1953).
Reference: Doris Troy Page at Soulwalking.
---
The Small Faces - Whatcha Gonna Do About It (1965)
Similar title but not the same song as "Whatcha Gonna Do About It" by Rev Black and the Rockin' Vickers.

This is the song covered by The Librettos on the B-side of Kicks.
---
The Hollies - Whatcha Gonna Do 'Bout It (1964)
On Parlophone LP Stay With The Hollies,1964. The sleeve has Watcha, the label has Whatcha. Writer credits are to Payne-Carroll.
Also released 1967 as B-side of Pay You Back With Interest (from 1966 LP For Certain Because), charted #28 USA. As far as I can see, that single was a USA-only release on Imperial: no discography I've seen lists a UK release.
The discographies from Hollies.co.uk are an excellent piece of work [archived pages].
---
Cilla Black - Whatcha Gonna Do 'Bout It (1965)
On Parlophone album Cilla, January 1965, produced by George Martin.
---