Last single, on Sunshine, by New Zealand band that had relocated to Sydney. By the time of Kicks, The Librettos were based in Melbourne, but it was recorded at Festival Studios in Sydney with producer Pat Aulton.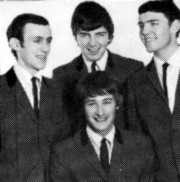 The band was down to a trio after the return of Lou Parun (front of photo) to New Zealand. The Librettos broke up when two other members, Rod Stone and Brian Peacock, left to join Normie Rowe's Playboys in England (see Ooh La La, It's Not Easy and Going Home).
Later, Rod Stone was a founding member of the Groove and Brian Peacock co-formed Procession.
Further reading: Bruce Sergent's history of The Librettos, covering numerous personnel changes from their formation in Wellington in 1962. Rod Stone's website includes a complete Librettos discography.
Thanks to Rod Stone.
Suggested by Terry Stacey.
---
The Monkees (1986) - Kicks (1986)
Recorded by Micky Dolenz and Peter Tork of The Monkees in 1986 [YouTube].
In some people's minds, Kicks is associated primarily with The Monkees (lyrics sites often list it as a Monkees song), and there is a common misconception that this is a Monkees oldie from the 60s. It isn't, but it was added to a 1986 Monkees oldies album, Then And Now: The Best Of The Monkees, so the confusion is understandable.
See the discussions at alt.music.monkees from May 2005 and January 2004. Peter Tork is quoted as saying, I was so annoyed with them having us do 'Kicks.' I told them it would be like making the Beatles do 'Ferry Cross The Mersey' on their reunion album.

---
---
---
Paul Revere & The Raiders - Kicks (1966)
Single on Columbia written by Brill Building veterans Barry Mann and Cynthia Weil.
The Raiders were formed in Boise, Idaho in the late 1950s. They moved to Portland, Oregon, after releasing nine singles on LA area label Gardena, one of which was a moderate instrumental hit, Like, Long Hair (1961. #38 USA). Their last big hit was, Indian Reservation (The Lament of the Cherokee Reservation Indian) (1971, #1 USA), written by John D. Loudermilk. They were known for their 18th century costumes (worn in keeping with their historical name) and for their weekly appearances on the TV pop show Where The Action Is.
There was a Paul Revere, on keyboards, the foundation member and a moving force in the band, but the lead singer was Mark Lindsay, who had a career of his own, charting in 1970 with Arizona and Silver Bird.
By the time of Indian Reservation the band had split, leaving Lindsay and Revere with new personnel as simply The Raiders..
See also: Mo'reen and Louie, Louie.
Further reading: Bruce Eder's Raiders history at All Music Guide.