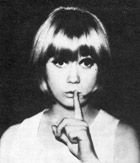 Single on HMV label, double-sided hit with Forever.
Lynne Randell (1950-2007), born in Liverpool UK, was an aspiring singer working as a hairdresser in Melbourne when she got her first big break. She toured the US on the same bill as The Monkees and Jimi Hendrix and recorded Ciao Baby (1967), her biggest Australian hit, in New York.
Further reading: 1. Milesago's Lynne Randell page. 2. The Lynne Randell entry at Wikipedia is comprehensive and well-sourced.
Doris Troy - Be Sure (1963)
Track on Doris Troy's debut album Be Sure on Atlantic label.
New York-born singer-songwriter Doris Troy (1937-2004) charted in the US with Just One Look (1963, #10), also a hit in 1964 for The Hollies. She moved to Britain after her single What'cha Gonna Do About It* charted there in 1964-65. She became a regular on the Ready Steady Go TV show and was signed to the Beatles' Apple label. As a background singer Doris Troy worked, for example, with Dionne Warwick, Dusty Springfield, Pink Floyd (Dark Side Of The Moon) and Nick Drake (Poor Boy on Bryter Later)
Be Sure was written by Doris Troy with Gregory Carroll, with whom she had also written Just One Look.
In 1953 Gregory Carroll had replaced a founding member of R&B ballad group The Orioles (Crying In The Chapel, 1953).
*Red Herring Alert: Doris Troy's What'cha Gonna Do About It is not the same song as The Small Faces' #14 UK hit Whatcha Gonna Do About It (1965), written by Brian Potter & Ian Samwell.
Further reading: 1. Doris Troy biography by Richie Unterberger at All Music. 2. Doris Troy Page at Soulwalking.