The Easybeats - Down To The Last 500 (1969)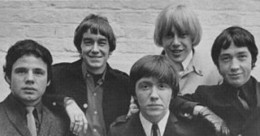 Released on the 1969 album Best Of The Easybeats Vol. 2, but recorded as a demo version in 1967.
The Easybeats were Australia's greatest pop export of the 60s, famous worldwide for their 1966 hit Friday On My Mind, but also responsible for an impressive repertoire of original pop songs, many of them hits in Australia.
Vanda and Young went on to continued success as producers, songwriters and performers (Flash and the Pan): see Magnus Holmgren's Vanda-Young discography at his Australian Rock Database [archived page].
Further reading: Easybeats page at Aussie music site Milesago.
Rev Black & The Rockin' Vicars - Down To The Last 500 (1968)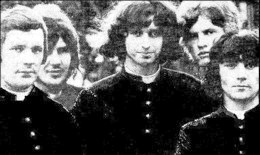 Single on Sunshine label that predates the Easybeats' own release.
This is not the UK band from Blackpool called Rev Black and the Rockin' Vickers (aka The Vicars, also as Rocking). The Blackpool Vickers/Vicars are perhaps best remembered for I Go Ape (1964) and for the presence of Ian Willis/Kilmister, later known as Lemmy of Hawkwind and Motorhead.
Down To The Last 500 is by a Wollongong, NSW band that featured David Rossall, a recent immigrant from the UK who had been a member of another Blackpool band, Bruce & The Spiders.
Terry Stacey, at his Aussie Vicars page [archived], argued convincingly that it was "a myth" that Rossall had been with the British Vickers/Vicars: Dave was definitely never a member of the UK Rockin' Vickers although he apparently admired them a lot.
The Australian Vicars were also known as R Black and the Rockin' Vs out of some late 60s squeamishness about taking the mickey out of the clergy.
See also What'cha Gonna Do About It (1967).
Reference: Terry Stacey's page devoted to the Australian Vicars was the definitive source on the band, including a detailed history and ground-breaking research into David Rossall's supposed connection with the UK Vicars. [Now defunct. See archived version.]
Further reading: The original Manchesterbeat website generously included a page on the Australian Rockin' Vicars as well as the British band. [Links are to pages at Internet Archive. The original site is being redeveloped.]
Image: The Wollongong Vicars.