EXCLUSIVE: RED PERKSEY DISCOGRAPHY
Click here to open or download .pdf document
Email me with corrections or additions.
78 rpm disc on Pacific, also on 45 rpm single.
The song is also known as Smiley, so it is easily confused with two earlier songs called Smiley, as well as a 60s hit with the same title (see below).
Charted in Brisbane and Sydney November-December 1956, in Melbourne November 1957.
(A Little Boy Called) Smiley was heard in the children's film Smiley Gets A Gun (1958), a sequel to Smiley (1956).
In the first film, another song called Smiley, sung by Shirley Abicair, was heard (see below). Even so, (A Little Boy Called) Smiley was apparently written in time to have been used in promoting the first film's Australian premiere in Brisbane in October 1956: (October 1956 article from Film Weekly at Smiley Gets A Website, now offline).
Film Weekly also mentions a recording by Clive Wayne, with composer Clyde Collins and Regent Theatre Brisbane organist Len Richmond, on a 'special disc' being broadcast by 4BC.
EXCLUSIVE BIOGRAPHY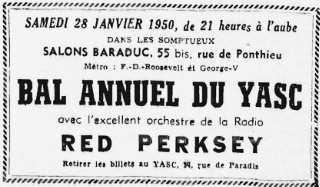 Jazz trumpeter, pianist, singer, composer, orchestra leader, music director and A&R man Robert Bernard "Red" Perksey, familiarly Bert (1921-1995) was born Siegbert Perlstein in Berlin. He was probably German Polish although he is invariably referred to as French.
By 1946 Perlstein was in Palestine, a major destination for Jewish Polish migration at the time. In that year he became a naturalised Palestinian citizen under the British administration. His citizenship application gives his birthplace as Berlin and his occupation as musician. His passport was Polish, issued in Berlin in August 1936 (about a month before his 15th birthday). His Romanian wife Zizi (Sara, also Sarah, b. Mendelsohn 1924) had been naturalised in 1944.
War broke out in Palestine in 1947, and in 1948 the British Mandate ended, making its Palestinian citizenship and passports obsolete, although alternatives were offered to those affected. It was in 1947 that the Perlsteins left Palestine and settled in France.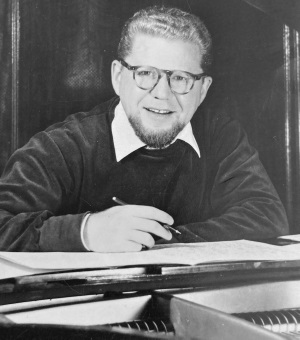 When they migrated to Australia in 1951, Siegbert Perlstein had been composing and performing in France as Red Perksey. By August 1954 the Sydney press was calling him one of Sydney's most colorful radio personalities.
In 1956 the Perlsteins were naturalised as Australians. At that time they were living in Albert Street in Petersham, Sydney. Electoral rolls show Red and Zizi Perksey living in Albert Street up until 1958.
In Australia, Perksey clearly identified as French. In the press he was typically referred to as a Frenchman or Parisian, and there was record company publicity about French-born Robert Perksey.

There are glimpses online of his connection with France: by 1950 he was gigging in Paris and publishing at least two songs with a French lyricist. He is listed in a French reference work, Coston's Dictionnaire des pseudonymes [IMAGE].
We know, then, that some time between 1946 and 1950 Siegbert Perlstein came to be working in France as a musician, as Red Perksey, but he could have first arrived in France at some other time after his passport was issued in Berlin in 1936. Clearly, the rise of Nazi Germany would have had grave consequences for him, especially as a Polish Jew.
Siegbert and Zizi Perlstein were listed in "Departures from France in February 1951" from the Paris office of AJDC [open .pdf], a Jewish refugee and emigrant support agency. This has them leaving Europe on 13 February 1951, from the Italian port of Genoa, on board the SS Surriento, a refugee and emigrant ship headed for Australia [see also here].
Many details are missing from their story, but it is one of Jewish migration, refugeeism and even Holocaust survival, a background that was belied by Red's image in Australia of the ebullient and whimsical French jazzman.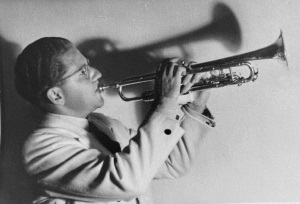 Perksey's first attempts at restarting a musical career in Australia faltered until he got some breaks in Newcastle and other regional NSW centres. By 1953 he was establishing himself as an individualistic jazz performer based in Sydney, with radio appearances and tours to other Australian locations. At some stage he became musical director with The Australian Record Company, owners of the Rodeo, Pacific and Coronet labels, where he also had an A&R role.
In newspaper write-ups Perksey's appearance was often noted: red-haired and red-bearded, short and rather rotund, as a Newcastle daily put it. Gosford's local paper had him as an effervescent French composer… dubbed 'personality boy' of Sydney composers.
From late 1952 to 1958 his name shows up many times in the archives of Australian newspapers including NLA's Trove. He is found in radio guides, record reviews, gig notices in capital and provincial cities, and in the occasional personality profile. In May 1958 there is an ad for a Canberra Jazz Club gig and a jokey photograph of him at a disc jockeys' convention. In October he was hosting lunchtime concerts for Coronet Records at a Sydney music store. He features on the sleeve of a CBS Coronet promo 45 in 1959, but there are no further traces of Red Perksey in Australia.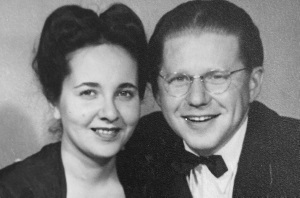 In 1959 Red and Zizi returned to France to visit Zizi's family. This appears to have been planned as a stop-off on the way to furthering Red's career in the United States. Instead, he gave up the professional trumpet for health reasons, and he and Zizi moved to a remote location in provincial France where they were known as Bert and Anne. Red sculpted, painted and made furniture, and did some playing with local musicians.
Red Perksey returned to Australia in the early 1980s, but Zizi stayed in France. He died in care in 1995 and is buried in Rookwood Jewish Cemetery in Sydney. Zizi Perksey died in 2012 in Saint-Raphaël near her home in Fayence, France.
Red Perksey's name appeared on the labels of about a dozen records on Pacific 1953-56, notably with his compositions In My Petit Taxi (1953, from Dans mon p'tit taxi) and Do You Remember Versailles (1954).
As well as Smiley, two other film tie-ins charted for Perksey's orchestra in 1956: The End Of The Affair (#10 Sydney) and A Town Like Alice (#6 Sydney, #4 Melbourne).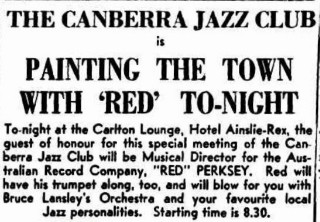 These days, Red Perksey is most often mentioned in connection with (We're Gonna) Rock Around The Clock by Vic Sabrino with Red Perksey & His Orchestra (1955), considered by some to be Australia's earliest rock'n'roll record.
Australian lyricists who worked with Perksey included Ken Taylor (notable A&R man at Festival: see Col Joye's Clementine), and Dorothy Dodd (known for her Granada and Velvet Waters lyrics). Among his other works was the music for Beppo The Clown, a children's radio pantomime with lyrics by Alan Seymour, broadcast on the ABC network in 1955.
Speculation:
The surname Perksey is unusual. Internet searches for it usually lead to Robert 'Red' Perksey (or offer other surnames such as Perskey or Parksey). There are no examples in Australian or US White Pages, or other directories I've tried.
1. Could Red have coined it from from perkusji, Polish for percussion or drums?
2. Look at this!
Siegbert Perlstein
Robert Perksey
Selected sources, recommended reading: 1. Henry Coston, Dictionnaire des pseudonymes (1965 p.182): PERKSEY, Red, Compositeur, Siegbert Perlstein (facsimile at Internet Archive). 2. Two Red Perksey compositions from France, 1950, sheet music held at the Bibliotheque nationale de France. 3. Red Perksey: sheet music at National Library of Australia. 4. Matt Hayes, "Entertainer Gives Newcastle Thanks", Newcastle Sun, 19 Jan 1954 (archived at Trove). 5. "Songwriter Here Soon", Gosford Times and Wyong District Advocate, 8 Dec 1953 (archived at Trove). 6. Photo of Red Perksey at disc jockeys' convention, Australian Women's Weekly, 28 May 1958 (archived at Trove).
Note on sources: 1. I have usually left out details from newspapers that could have been exaggerations for the sake of promoting the artist, and could not be verified. 2. This is not a scholarly article, so I haven't cited every source. I can share other sources if you contact me.
Gig notices: 1. Paris, 1950, Droite et Liberté. 2. Canberra, 1958, Canberra Times.
Thank you to Mia Cahen for further background and images.
This exclusive biography of Red Perksey is my work, based on original research. You will not find such a biography anywhere else. If you use it, please credit me or this website. ©Lyn Nuttall 2019, updated 2020
---
The Sun, Sydney, 31 August 1954
Radio Roundup
BY J. H. ADAMS
A PARISIAN trumpeter, "Red" Perksey, has become one of Sydney's most colorful radio personalities. § "Red", who has graduated as a band leader, is also a composer and whenever one of his compositions goes over the air, he leads his own small group of musicians. § "Red", who prefers to experiment with his own style in arrangements, rather than model everything on American hit parade material, will be guest artist over 2UW on Monday at 7.30 pm. § Two of his compositions, Bon Vivant and Mon Petit Taxi, will be sung.

PARISIAN: "Red" Perksey, whimsical Parisian musician and composer who has become a personality in Sydney radio. § He is with singer Toni Lamond, who will appear with him over 2UW at 7.30 pm next Monday.
---
Ray Dickson? This could be the pop music singer from Springvale in Melbourne who often appeared on Melbourne and network radio in the 1950s, and who sang on the opening program for Melbourne's GTV9 in 1957.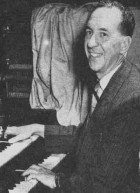 Clyde Collins, writer of (A Little Boy Called) Smiley, was a prolific Australian composer whose works include The Sunshine State, the official song of the 1958 Queensland Centenary (Life is great/ In the Sunshine State...). (A Little Boy Called) Smiley was included in Smiley The Musical by John Watson & David Cocker YouTube.
---
Although Ronnie Burns's 1969 hit Smiley is a different song, the name 'Smiley' would have resonated with Australian audiences familiar with (A Little Boy Called) Smiley and with the Smiley films.
---
Further reading: 1. Newspaper mentions of singer Ray Dickson, search results 1950-1960 at Trove. 2. Sadly, Nigel Mallet's excellent Smiley Gets A Website has vanished permanently, but you can access a text-only version at the Internet Archive.
Michael O'Regan - Smiley (1947)

NOT THE SAME SONG AS OTHER 'SMILEY' SONGS RECORDED BY RED PERKSEY OR BY SHIRLEY ABICAIR.
78 rpm disc on Regal Zonophone by Michael O'Regan (The Singing Broadcaster) With Knight Barnett At The Organ. The label says Inspired by Moore Raymond's story "Smiley".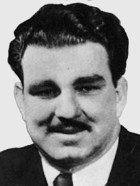 Singer Michael O'Regan [RIGHT] was an announcer at 2HD, a radio station in Newcastle, NSW. According to the 1946-47 Broadcast Year Book and Radio Listeners' Annual he had an "Irish tenor voice".
Accompanist Knight Barnett (1903-1984), born in Roseville New South Wales, was a distinguished theatre organist who was resident organist at the Regent Theatre in Adelaide for many years until the late 60s.
Composer Roy Darling favoured compositions with an Australian theme, including Eureka – The Stockade Song, and Overlander Trail, recorded over the years by Buddy Williams, Smokey Dawson, and Lee Kernaghan. This appears to be Roy Darling (1884-1956) the British-born film director resident in Australia. He could well also be the Sydney cinema and variety theatre manager.
Creator of "Smiley" Moore Raymond (1904-1980) was an Australian journalist, broadcaster, film critic, author, magician and lyricist who lived in London for many years. He was born in Pimpama, Queensland, but spent some of his childhood in Augathella, a small Queensland town that was an inspiration for the setting of his Smiley novels. Raymond co-wrote the 1956 film version of the first book, Smiley (1945). There was a 1958 film of Smiley Gets a Gun (1947), and a third novel was published in 1959, Smiley Roams The Road.
Essential reading: The Oz Movies website has a history of all three Smiley songs 1947-56, including label shots and sheet music covers. To read, open pdf at ozmovies.com.au
References, further reading: 1. Smiley (1947) sheet music in full at NLA's Trove archive. 2. Broadcast Year Book and Radio Listeners' Annual of Australia, 1946-47, p. 99: open .pdf at the American Radio History website. 3. Moore Raymond biography at AusLit (may need registration or local library log-in). 4. Knight Barnett biography at the Australian & NZ College of Organists website.
Thanks to Terry Stacey and Doug Smith.