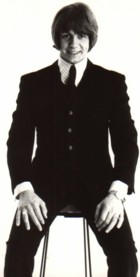 On the 1969 album Smiley. Written and produced by Johnny Young who also wrote Russell Morris's The Real Thing and Ross D. Wylie's The Star, and was a popular singer in his own right.
Smiley, you're off to the Asian war/ And we won't see you smile no more…

When Johnny Young wrote the song, he had in mind Australian pop star and Vietnam War conscript Normie Rowe: Before he left, he was really happy-go-lucky, fun-filled young fella. When he came back, he changed. (Johnny Young on ABC-TV's Love Is In The Air: see transcript.)
It was one of the few Australian hits of the '60s to directly address the issue of the Vietnam War, although it was not the first, as is sometimes claimed — that honour goes to The Masters Apprentices' Wars Or Hands Of Time. – Paul Culnane
---
The name 'Smiley' in Ronnie Burns's record would have resonated with Australian audiences familiar with the Red Perksey hit from 1956-7 (A Little Boy Called) Smiley and the popular children's films Smiley (1956) and Smiley Gets A Gun (1958). Whether or not writer Johnny Young intended this, it added to the song's theme of lost innocence by bringing to mind the carefree 1950s childhood of that earlier Smiley.
---
Melbourne singer Ronnie Burns emerged in 1964 as a member of Beatles influenced band The Flies, and went on to a successful solo career. After signing with Spin he benefited from his association with The Bee Gees, and he had several charting singles, usually with original songs by Australian songwriters.

Ronnie and his wife Maggie later ran the Appin Hall Children's Foundation, their non-profit organization for children in crisis and distress.
From the 60s to the 90s, Ronnie hosted and produced several television programs, including his own creation, Prophecy & Prediction – Threat or Warning? In the late 90s he joined fellow music stars Russell Morris and Darryl Cotton to form Burns, Cotton & Morris. Along the way he ran an architectural and design company and wrote The Australian House Book.
In 2001, Ronnie was the subject of This Is Your Life, for which 2 million people tuned in to the Nine Network.
Reference

: Ronnie Burns, official biography
Craig Scott - Smiley (1971)
Singer from Dunedin, often on the NZ charts in the 70s, groomed as a solo pop star after fronting bands that included Battle of the Sounds winners Revival (Viva Bobby Joe, 1969,#14 NZ). See career biography at Bruce Sergent's New Zealand Music site. See also Ciao Baby (1971) and Rock'n'Roll (1973).
You can hear Craig Scott's version on mp3 at
Red Perksey & His Orchestra, Vocals By Ray Dickson - (A Little Boy Called) Smiley (1956)
Similar title but not the same song as 'Smiley' by Ronnie Burns.
Heard in the film Smiley Gets A Gun (1958).
Go to (A Little Boy Called) Smiley for more information about this song.