Single on Interfusion (also in NZ), and in UK on Pye International. Charted Top 100 in the USA (single on Uni).
Recorded in Britain by English-born singer whose career kicked off as a teenager in Australia, where she had lived since the age of five.
The deep male voice on the recording belongs to Mike Sammes.
Arranged and produced by expat Australian John Farrar (ex-Mustangs and Strangers) and Bruce Welch (ex-Shadows), who in 1971 were members of Marvin, Welch & Farrar with ex-Shadow Hank B. Marvin.
From a popular bluegrass song of the 1930s, based on a traditional song.
---
Joan Baez - The Banks Of The Ohio (1959)
Notable recording of traditional song.
Appears on several Joan Baez albums, including Folksingers Around Harvard Square (1959) and Joan Baez Vol. 2 (1961).
Olivia Newton-John cites Joan Baez as one of her favourite artists.
---
Bill & Charlie Monroe (the Monroe Brothers) - On The Banks Of The Ohio (1936)
Notable recording of traditional song.
Also recorded by:
Johnny Cash (Carter Family) 1964 (album Keep On The Sunny Side); Tony Rice 1977; Elliott Murphy 2003 (album Strings of the Storm); Bill Monroe & Doc Watson (album Live Duet Recordings 1963-1980) and numerous others.
More information at Ballads from Deep Gap, NC and Okemah, OK, which points to the similarity with two other traditional songs, The Lone Green Valley and Omie Wise.
---
The Blue Sky Boys - Down On The Banks Of The Ohio (1936)
Notable recording of traditional song.
The Originals website lists some earlier versions, going back to Patterson's Piedmont Log Rollers in 1927.
---
Lenore Somerset - The Banks Of The Ohio (1964)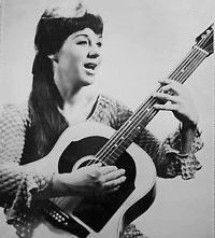 Track on the W&G album Lenore Somerset Sings by Melbourne-based folk and country singer often seen on popular TV shows in the 1960s. Lenore Somerset (1931-2006), née Miller, was from Queensland but moved to Melbourne in the late 50s. As a child she recorded with her uncle, the C&W singer Buddy Williams, and she had been with the Queensland Opera before moving to Melbourne.
Reference, further reading: 1. Singing Jillaroo Hit High Folk, C&W Notes, obituary in Melbourne Age, 27 October 2007, republished here. 2. Warren Fahey, The Early Years of the Folk Revival in Melbourne at WarrenFahey.com.
Thanks to Bill Casey for version alert.