Jon English - Turn The Page (1974)
Released November 1974, charted from January 1975.
Single on Warm & Genuine by singer and actor born in Britain in 1949, in Australia from 1963.
Jon English (1949-2016) was rarely absent from Australian stage or television from the early 70s. He was in the Australian cast of Jesus Christ Superstar, the TV drama Against The Wind and the sitcom All Together Now. In later years he star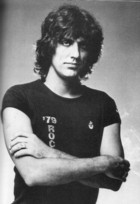 red in popular Gilbert and Sullivan revivals and in a stage version of Dad's Army.
He had several charting singles throughout the 70s and 80s, including Handbags and Gladrags (1973), Hollywood Seven (1976), Words Are Not Enough (by Garry Paige & Mark Punch, 1978), Six Ribbons (with Mario Millo, 1978) and Hot Town (1979). See also Behind Blue Eyes (1977).
Suggestion from Terry Stacey.
---
Waylon Jennings - Turn The Page (1985)
On RCA album Turn The Page by highly regarded country singer-guitarist (1937-2002) who toured in Buddy Holly's band in 1959 and famously gave up a seat on the ill-fated plane. An associate of Johnny Cash (Waylon's son Shooter played his dad in Walk The Line), in the 80s he collaborated with Cash, Willie Nelson, and Kris Kristofferson as The Highwaymen.
References: Petr Vitous's LP Discography for Waylon Jennings; Wikipedia entry on Waylon Jennings.
---
Metallica - Turn The Page (1998)
On 1998 album Garage Inc, an expanded version of an earlier, limited edition EP Garage Days Revisited (1987) which did not include this song.
References: Metallica Encyclopedia's entries on the Garage Inc album, and on Turn The Page; M.C. Strong's Great Rock Discography.
---
Bob Seger - Turn The Page (1973)
On 1973 album Back In '72 by Detroit rock guitarist, singer and songwriter.
Also on Live Bullet (1976) by Bob Seger & The Silver Bullet Band.
Further Reading: Song review at All Music Guide; Wikipedia entry on Turn The Page.
---
Golden Earring - Turn The Page (1995)
On 1995 album Love Sweat by re-formed Dutch band famous for Radar Love (1973), an international hit so legendary it has earnt its own webpage.
Formed in 1961, also known as The Earrings or Golden Earrings, this is one of The Netherlands' most popular bands of all time.
Further reading: Alex Gitlin's Nederpop Encyclopedia.