The Clik - Mary, Mary (1970)
Single by Sydney band, one of two on Festival.
The Clik was formed in 1969 with Mario Millo (guitar, vocals), Brian Nicholls (organ), Vince Moult (bass), and Mark Friedland (drums).
Ian McFarlane notes that although The Clik's singles from 1969-70 were "bubblegum pop", the band later "moved in a hard rock direction" with replacement personnel Garry Adams then Justin McCoy (guitar), Phil Cogan (bass), and Doug Bligh (drums) joining Millo from 1972. Spencer et al in their Who's Who also list Brian Kirby (drums) and John Nichols (vocals) as members at unspecified times.
---
After The Clik, in 1973, Mario Millo (b. 1955) joined progressive symphonic rock band Sebastian Hardie where his compositions, vocals and guitar were central to the critically acclaimed album Four Moments (1975) and its follow-up Windchase (1976). Windchase was also the name of Millo's short-lived post-Sebastian Hardie band, formed with Sebastian Hardie bandmate Toivo Pilt.
From the late 70s Millo composed many notable cinema and TV soundtracks, beginning with the series Against the Wind (1978), and including his award-winning scores for The Lighthorseman (1987) and the series Brides of Christ (1991). He has released several solo albums of original works.
---
Jon English and Mario Millo had a Top 5 hit in Australia with English's composition Six Ribbons (1978) from Against The Wind, a TV series that was scored by Millo. Both artists had been in Sebastian Hardie though at different times.
---
References, further reading: 1. The Clik at Aussie Music history. 2. Mario Millo, official website. 3. Chris Spencer et al, Who's Who of Australian Rock, 5th edition (2002), p. 75. 4. Ian McFarlane, The Encyclopedia of Australian Rock & Pop (1999), pp. 561-562. 5. Interview with Mario Millo, 2002, at Progressor.net (thanks to Milesago).
Suggested by Barbara Herzig.
---
Kelly - Mary, Mary (1969)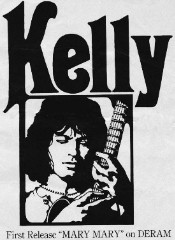 Single on Deram by Jim Kelly (1946-1995) of British band Honeybus (aka The Honeybus).
Written by Honeybus's Ray Cane who also produced and arranged the single.
---
Although highly regarded then and now, Honeybus's only UK hit was I Can't Let Maggie Go (1968, #8 UK). Their song (Do I Figure) In Your Life (1967) is familiar to many through the 1969 version by Joe Cocker as Do I Still Figure In Your Life? YouTube. Both songs were written by Pete Dello [b. Blumson], who left the band during 1968 and was replaced by Jim Kelly.
---
See also Under The Silent Tree (Cane) and Baby Jane (Dello-Cane)
Image from Honeybus official site, cropped and manipulated, original here.
---
The Monkees - Mary, Mary (1967)

SAME TITLE BUT NOT THE SAME SONG AS
'MARY MARY' BY THE CLIK.
On 1967 Colgems album More Of The Monkees, also on a single in several countries including Australia (1968). It doesn't seem to have been on a US single in the 60s, unless you count a cereal box giveaway in 1969.
See also the version by Brisbane band The Bay City Union.
First released by The Butterfield Blues Band on East-West (1966).
A version by US hip-hop group Run-DMC charted in 1988 (#75 USA [#29 R&B], #86 UK, #14 NZ).
---
Mantissa - Mary Mary (1992)
SAME TITLE BUT NOT THE SAME SONG AS
'MARY MARY' BY THE CLIK.
Single on Polydor by hard rock band from Melbourne previously known as Killing Time, formed 1989. Mary Mary was an original, written by band members.
---

There are many songs with Mary Mary as a title or part of a title, no doubt because the phrase is familar from the nursery rhyme Mary, Mary, Quite Contrary. See, for example, these search results from 45cat.com.
---
Normie Rowe - Mary, Mary (1966)

SAME TITLE BUT NOT THE SAME SONG AS
'MARY MARY' BY THE CLIK.
Single on Sunshine, also in UK on Polydor, B-side of It's Not Easy, a double-sided hit in Perth. Elsewhere, It's Not Easy alone charted (#5 Sydney #3 Melbourne #2 Brisbane #6 Adelaide #21 NZ).
As far as I can tell, this was the original recording of this Mary, Mary.
For more details, see under It's Not Easy, and under Ooh La La, another Normie Rowe hit recorded in London and written by two of these writers, Shaw & Keene.