Jon English - Behind Blue Eyes (1977)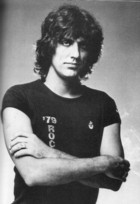 Single on Polydor by singer and actor born in Britain in 1949, in Australia from 1963.
Jon English (1949-2016) was rarely absent from Australian stage or television from the early 70s. He was in the Australian cast of Jesus Christ Superstar, the TV drama Against The Wind and the sitcom All Together Now. In later years he starred in popular Gilbert and Sullivan revivals and in a stage version of Dad's Army.
He had several charting singles throughout the 70s and 80s, including Handbags and Gladrags (1973),Turn The Page (1974), Words Are Not Enough (by Garry Paige & Mark Punch, 1978), Six Ribbons (with Mario Millo, 1978) and Hot Town (1979).
Thanks to Terry Stacey for suggestion and proof-reading.
---
The Who - Behind Blue Eyes (1971)
On album Who's Next, also released as a single in several countries including the USA but not in the UK.
Pete Townshend of The Who demoed Behind Blue Eyes in 1971 for Lifehouse, a proposed rock opera that was never staged.
Townshend's box set Lifehouse Chronicles (2000) collected material connected with the project, including Behind Blue Eyes. Another version of the song appeared on a Lifehouse sampler, also in 2000, Lifehouse Elements.
See also Townshend's 1986 single, below.
---
---
---
The Chieftains - Behind Blue Eyes (1992)
On live album An Irish Evening, with Roger Daltrey from The Who joining the band on this and two other tracks.
---
---
Roger Daltrey - Behind Blue Eyes (1986)
Live version by lead singer of The Who on Under A Raging Moon, a double EP on 10 Records. Two of the tracks are from the album Under A Raging Moon, with three live tracks.
---