Jon English - Hollywood Seven (1976)
Single on Polydor by singer and actor born in Britain in 1949, in Australia from 1963.
Jon English (1949-2016) was rarely absent from Australian stage or television from the early 70s. He was in the Australian cast of Jesus Christ Superstar, the TV drama Against The Wind and the sitcom All Together Now. In later years he star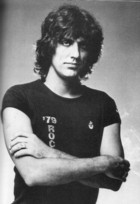 red in popular Gilbert and Sullivan revivals and in a stage version of Dad's Army.
He had several charting singles throughout the 70s and 80s, including Handbags and Gladrags (1973), Turn The Page (1974), Words Are Not Enough (by Garry Paige & Mark Punch, 1978), Six Ribbons (with Mario Millo, 1978) and Hot Town (1979). See also Behind Blue Eyes (1977).
Released March 1976, charted from mid-April. The song was first published in the United States, but not previously recorded there.
Gloria Sklerov has been a prolific songwriter over the years, often in collaboration with Harry Lloyd. She now specialises in wedding music through her website Wedding Music Central, where you can read her resumé.
Gloria Sklerov recalls for PopArchives the writing of Hollywood Seven:
❝ At the time I was a staff writer for Garrett Music, who had a sub-publishing with the Australian publisher. They had asked me to write an "urban story song" for an artist who had just had a major hit named Terry Jacks. The song was Seasons in the Sun. I really wanted to get that record.
❝ On the way home on the freeway, I passed a motel called "Hollywood Eight" which intrigued me. I started to think about who might be checking in there. When I got together with Harry Lloyd, we discussed it and decided to change the name to "Hollywood Seven' because it "sang" better. We then plotted the story and it all sort of came to be like it was meant to.
❝ Ironically, the Terry Jacks deal never happened and so the song was sent out to all the sub-publishers.
❝ We were thrilled when we heard Jon's record because they used some of the synth riffs we had used on the demo and his vocal was great…
❝ As a writer, I was very proud of Jon's version. ❞
See also Judy Stone – House For Sale (1977), another Lloyd-Sklerov composition recorded by an Australian artist.
Lloyd and Sklerov also wrote He Did With Me, a hit in Australasia for Vicki Lawrence (1973, #7 Sydney, #1 Melbourne, #1 Brisbane, #9 Adelaide, #21 NZ). They co-wrote I Just Fall In Love Again, recorded by The Carpenters, Dusty Springfield and Anne Murray (1979, #12 USA, #43 Sydney, #37 Brisbane). Cher has also recorded a number of Lloyd-Sklerov songs.
More recently, Australian country star Gina Jeffreys recorded Standing Too Close To The Flame, another Gloria Sklerov co-composition.
---
Thanks to Gloria Sklerov, Terry Stacey and Jeff Smith.
Dennis Waterman - Hollywood Seven (1976)
Track on 1976 DJM album Down Wind Of Angels by British actor and singer known for his roles in The Sweeney, Minder and New Tricks.
Waterman's recording of I Could Be So Good For You (1979, #3 UK in 1980) is familiar as the theme song for Minder, and he is also heard on New Tricks singing its theme song It's Alright. Although he did not write either of those songs, they provide the premise for Little Britain's fictionalised Dennis Waterman who wants to write and sing the theme song for any series he is offered.
---
Research by Gareth Jones establishes beyond reasonable doubt that Dennis Waterman's version could not have been released earlier than Jon English's Australian single. Waterman can now be placed in the last quarter of 1976. According to Chris Spencer's Australian Rock Discography English's version came out in March 1976, and it first charted in mid-April (Gavin Ryan's Australian chart books), making it the original version.
---
Discogs.com shows 1977 for Waterman's album release but that seems to be an error: perhaps this late-1976 release became better known into 1977.
Thanks to Gareth for research, and to Melthoid Serendipity for this crucial version alert.
Vicki Lawrence - Hollywood Seven (1977)

Single on Private Stock by star of The Carol Burnett Show. She also perfomed the song on the show.
Vicki Lawrence also recorded the Sklerov-Lloyd song He Did With Me, a hit in Australia. Her biggest hit was The Night The Lights Went Out In Georgia (1972, #1 USA), written by her then husband Bobby Russell.
A label shot of a promo copy of the single is posted by Daniel J. Selby here. The number of the 45 is PS1288, an unusual number for Private Stock singles 1974-1979 which were in the format PSR or PS 45,XXX. The single does not appear on any Private Stock singles discography that I've seen, and I haven't found a label shot of a released single.
Version alert from Gloria Sklerov.