Jon English - Handbags And Gladrags (1973)
Single on Warm & Genuine by singer and actor born in Britain in 1949, in Australia from 1963.
Jon English (1949-2016) was rarely absent from Australian stage or television from the early 70s. He was in the Australian cast of Jesus Christ Superstar, the TV drama Against The Wind and the sitcom All Together Now. In later years he star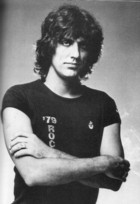 red in popular Gilbert and Sullivan revivals and in a stage version of Dad's Army.
Handbags and Gladrags was the first of several charting records for Jon English throughout the 70s and early 80s which included Turn The Page (1974), Words Are Not Enough (by Garry Paige & Mark Punch, 1978), Hollywood Seven (1976), Six Ribbons (with Mario Millo, 1978) and Hot Town (1979). See also Behind Blue Eyes (1977).
Suggestion from Terry Stacey.
---
Rod Stewart - Handbags And Gladrags (1970)
On the album An Old Raincoat Won't Ever Let You Down, also released as a single.
According to the Handbags And Gladrags page at WernhamHogg.co.uk, the Office fan website, this is the version co-writer and actor Ricky Gervais was familiar with when he chose the song (though not Rod's version) as the theme for the TV comedy.
---
Mike D'abo - Handbags And Gladrags (1970)
Originally on the album D'Abo.
Mike d'Abo replaced Paul Jones as lead singer of Manfred Mann in 1966.
After Manfred Mann, his career also included acting, writing film scores and commercials, and presenting on BBC Radio Bristol.
Since Handbags And Gladrags is now and forever associated with the 2001 comedy series The Office, there is an excellent outline of Mike d'Abo's career at WernhamHogg.co.uk, the Office fan website.
See also Herman Hamerpagt's Mike d'Abo website which has generous coverage of artists who have recorded d'Abo songs, including Jon English.
Trivia Department: Mike d'Abo's daughter Olivia d'Abo (b. 1967) played Kevin Arnold's sister Karen in The Wonder Years. See her filmography at the Internet Movie DataBase.
---
Chris Farlowe - Handbags And Gladrags (1967)
Chris Farlowe (b. John Deighton, 1940): British singer in a blues and soul vein who benefited from the patronage of Mick and Keith of Rolling Stones fame. His first hits in the UK, in 1966, were Jagger-Richards compositions Think, Out Of Time (both from the Stones' Aftermath) and Ride On Baby.
See, for example, the Chris Farlowe page at 45rpm.org.uk.
Handbags And Gladrags has also been recorded, for example, by Double Feature (1967), The Love Affair (1968), Jimmy Witherspoon (1970), Mary Coughlan (1992)…
Further reading: The Originals lists some other versions, but the definitive account is Handbags and Gladrags: The Complete History at Office fansite Wernham Hogg.
---
The Stereophonics - Handbags And Gladrags (2001)
Band originally from South Wales.
This isn't the version used in The Office.
---
Big George - Handbags And Gladrags (2001)
Big George Webley (1957-2011) was engaged to arrange and record the Mike d'Abo song for the British comedy series The Office, an instrumental for the opening theme and a vocal version over the closing credits.
In Series 1, Episode 4 of The Office Ricky Gervais, as 'David Brent', sings an excruciating version of Handbags And Gladrags to his own acoustic guitar accompaniment.
---