The Times - Just Another Guy (1965)
Single on His Master's Voice, B-side of Tender Feeling (#10 Perth) by Perth band formed in 1964 by Terry Walker (vocals, guitar), Tony Tyler (guitar), and Jim Sheridan (drums). The Who's Who of Australian Rock (2002) lists several other members.
Terry Walker had been in Ray Hoff & The Offbeats 1960-62. He was then in The Hi-Five until 1964, a band he later rejoined, sharing lead vocals with Glen Ingram. Tyler and Sheridan were both foundation members of The Hi-Five.
Walker later joined top Melbourne band The Strangers when they were at their late-60s peak, and sang on Love Machine (1968) by studio band Pastoral Symphony.
The Times also charted in Perth with Glad Not Sad (1965, #6, written by Terry Walker) and Every Window In The City (1966, #46, original version by Jerry Cole, 1965).
---
For more about The Times see the A-side, Tender Feeling.
For more about The Hi-Five see Skye Boat Song.
---
References: 1. Murray Gracie & John Mills (eds), Jive, Twist and Stomp, WA Rock & Roll Bands of the 50s and 60s (2010). 2. Ray Van Ross's 2018 interview with The Times YouTube.. 3. Chris Spencer et al, Who's Who of Australian Rock, 5th edition (2002), p.405.
Cliff Richard - Just Another Guy (1965)
Single on Columbia, B-side of The Minute You've Gone (#5 Melbourne #2 Brisbane #18 Adelaide #3 Perth).
In Melbourne, Brisbane and Perth this was a double-sided hit; in Adelaide only The Minute You've Gone charted; and in Sydney neither charted.
Recorded at Columbia Studios, Nashville, 25 August 1964, produced by Bob Morgan & Billy Sherrill, with vocal backing by The Jordanaires of Elvis Presley fame [see infobox from Cliff Richard Song Database].
Three charting British singles were recorded in the Nashville sessions on 24-25 August:
• The Minute You're Gone (1965, #1 UK, #6 Australia, the A-side of Just Another Guy);
• Wind Me Up (Let Me Go) (1965, #2 UK, #40 Australia);
• On My Word (1965, #12 UK, #31 Australia).
Out of the same sessions came Angel and Just Another Guy, two songs that charted in Australia but not in the UK.
Earlier in the month, on 19 and 21 August, Cliff Richard had recorded some tracks at Columbia Studios in New York, produced by Bob Morgan.
---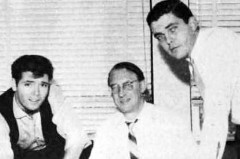 At this time Bob Morgan was Executive A&R Producer at Epic Records in New York. He produced major artists at a number of labels over the years, including Bobby Vinton's hits on Epic beginning with Roses are Red (My Love) (#1 USA). In July 1964 Billboard reported that Morgan had met with Cliff Richard and his producer Norrie Paramor in London to discuss upcoming US recording sessions and repertoire for Richard. [Image: Richard, Paramor, Morgan at EMI London]
Co-producer Billy Sherrill (1936-2015) was a notable Country producer, A&R man and songwriter best known for his career-building work at Epic in Nashville with Tammy Wynette and Charlie Rich . His co-writer credits include Wynette's Stand By Your Man (1968) and Rich's The Most Beautiful Girl (1973).
---
Just Another Guy was recorded a couple of years before the composer, Neil Diamond, charted with Cherry Cherry (#6 USA, his first Top 40 hit), and with his composition I'm A Believer by The Monkees (#1), both in 1966. He later became a major artist, with many hit singles 1966-1982 and a double live album, Hot August Night (1972), that broke sales records in Australia.
---
References, further reading: 1. Sessionography at the excellent Cliff Richard Song Database (click on song titles for full, rich details) at cliffrichardsongs.com. 2. My blogpost Only in Oz (3) & (4): Cliff Richard – Just Another Guy and Cliff Richard – Angel. 3. "New Twist Mapped: Blends English with US, Vice Versa" (Bill Morgan, Norrie Paramor, Cliff Richard), Billboard, 11 July 1964, p.20. 4. Bob Morgan discography and profile at Discogs.com. 5. Billy Sherrill biography at Alabama Music Hall of Fame. 6. Billy Sherrill at Nashville Songwriters Hall of Fame. 7. Billy Sherrill composer credits at 45cat.com.