Stewart Family - Just Out Of Reach (Of My Two Open Arms) (1951)
78 rpm disc on Bill McCall's Los Angeles label Gilt-Edge. The group also had records issued on affiliated label 4 Star.
Other versions: Dozens of versions of the song have been released since early cover versions by Faron Young (1952, B-side on Capitol) and by Bonnie Lou (1953, B-side on King). The Originals website lists a selection of 15 versions, and Cover.info lists 55.
The Stewart Family was a real family, a country and gospel group led by Virgil F. "Pappy" Stewart (1907-1988), a Blytheville, Arkansas soybean grower and the composer of Just Out Of Reach.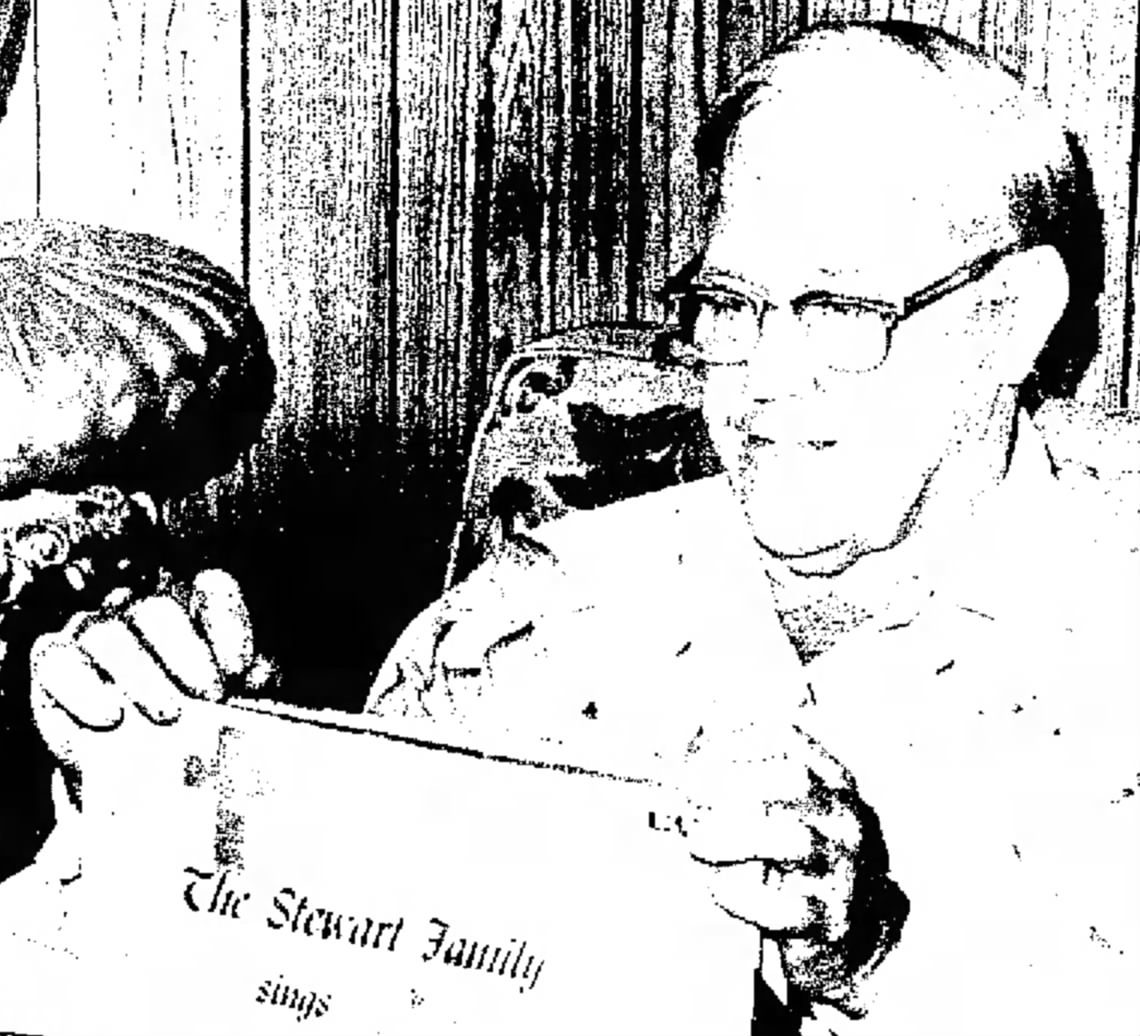 The Stewarts were one of several family musical groups in the area at this time. They were part of a thriving country, hillbilly and gospel music scene nurtured in the 1930s and 40s by local radio stations like KLCN in Blytheville and KOSE in nearby Osceola.
In 1970, Blytheville journalist Jim Branum noted that KLCN has done as much for country artists than any other station its size in the nation, and acknowledged the prevalence of family groups amongst hillbilly artists.
The Stewart family worked a farm, but they were also musicians, and they married musicians, and they had neighbours who were musicians. The names of the Stewart family and friends appear in the line-ups of multiple groups on local radio, and at local events like the National Cotton Picking Contest.
Some of these artists cut some records on minor labels, but Pappy Stewart's extraordinary success with Just Out Of Reach, and his connection with the music stars who recorded it, is an outlier in a mainly localised industry.
Pappy, his two daughters, and his sister appeared regularly on KLCN Blytheville from 1934 after they convinced the station to give them a regular 15-minute segment. They toured extensively around the region until 1953. The band broke up as the daughters began raising families of their own.
The family was billed at local events as Pappy Stewart's Family or Pappy Stewart And His Famous Family. For a gig in Charleston, Missouri in October 1945 they were advertised as "Pap Stewart And His Arkansas Cowgirls of Radio Station KLCN, Blytheville".
In 1951 the line-up was Pappy Stewart (guitar), his daughters Bethyl (fiddle and vocals) and Janet (bass violin), his multi-instrumental sister Baba Howard (mainly accordion) and Bethyl's husband Buddy Brown (mandolin, organ).
Baba had also been heard on KLCN in Don & Baba Howard & Their Smiling Hillbillies (clearly along similar lines to Don Howard and His Smiling Hillbilly Gang and Donald Howard and His Smiling Hillbillies, also spotted in the archives).
Also touring with the Stewarts during this period were Wilma Scott and Don Whitney.
Wilma Scott was from Blytheville too, and had been in the Burdette Girls Quartet with Bethyl, Janet and Baba Stewart in the early 1940s. Don Whitney (1926-1985), from nearby Osceola, also worked solo (billed as Arkansas' Biggest Hillbilly), on radio and on several discs on the 4 Star label. He was a disc jockey at KLCN Blythedale and at KOSE Osceola where he became general manager.
Apart from Just Out Of Reach, Pappy Stewart was a prolific songwriter who had a number of other songs recorded by other artists including Patsy Cline. Many of the songs in the family's repertoire were written by Pappy or his sister Baba.
When interviewed in 1976 for a profile in Blytheville's Courier-News, Pappy Stewart was 68 years old and had been married to Gladys for 50 years. He was long retired from professional music and happily living and working on his farm. His sister Baba, who was much younger than Pappy, died in Blythedale in 2013, aged 87.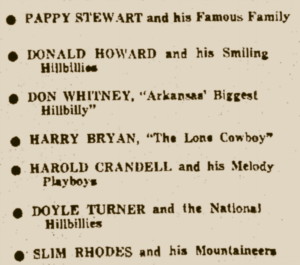 Selected sources:
1. Discogs.com: Stewart Family biography.
2. Newspaper stories [via newspapers.com, paid sub required]:
• "'Pappy' Stewart: 'Just A Lucky Country Boy'", profile in The Courier-News, Blytheville Arkansas, 11 February 1976
• Display ad, The Courier-News, 12 September 1952 and event notices late 1940s to early 50s.
• The Courier-News, 11 August 1942 (Burdette Girls Quartet).
• The Courier-News, 11 October 1949 (Stewarts & "Arkansas' Biggest Hillbilly").
• Jim Branum, "40,000 Pennies and 20 Years", The Courier-News, 12 September 1970 (Essential reading. KLCN's role; family groups; Smiling Hillbillies).
• The Enterprise-Courier, Charleston Missouri, 11 and 18 October 1945 (Arkansas Cowgirls).
3. Cash Box: 20 October 1951 p. 20: KLCN, personnel [Internet Archive, free access].
4. This Is My Story: Bill McCall story.
5. Hillbilly-Music.com: Don Whitney.
Ken Dodd - Just Out Of Reach (Of My Two Open Arms) (1972)
Single on Columbia by idiosyncratic stand-up comedian, ventriloquist, actor and singer (1927-2018) from Knotty Ash, Liverpool. See also The Key.
Although known as a comedian, Ken Dodd was also a serious singer who became "one of the biggest recording artists of the 1960s". He charted Top 10 with Love Is Like A Violin (1960, #8 UK), Tears (1965, #1), The River (1965, #3), and Promises (1966, #6). Tears was the third top-charting record of the 60s after two Beatles tracks.
References, further reading: 1. "Ken Dodd 'third best-selling artist of 1960s'", BBC News, 1 June 2010. 2. Ken Dodd biography by Craig Harris at AllMusic.
Perry Como - Just Out Of Reach (1975)
Track on RCA album Just Out Of Reach, also on RCA single (1975), by former barber from Canonsburg, Pennsylvania (1912-2001).
Easy-going Perry Como was a band singer in the 1930s and 40s with Freddie Calone and Ted Weems, but from the post-war 1940s he became a solo star on radio and TV and was constantly on the charts over several decades.
Como was into his 40s when rock'n'roll appeared, but songs like the the early Bacharach-David hit Magic Moments (1958 #4 USA #1 UK) didn't sound out of place in the pop charts of the late 50s.
Recorded at RCA Victor Studios in Nashville.