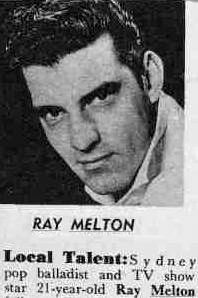 Single on Sydney label Teen by Ray Melton (c.1939-1964), orchestra conducted by Bob (Beetles) Young.
See also Chain Gang, the B-side of the single.
Melton was probably Ray of Ted & Ray: see their popular 1959 record Tell Him No.
Sydney-based Ray Melton appears to have been active as a singer from the mid-50s to the early 60s. He released a number of records 1956-1961 on the Prestophone, HMV, Leedon, Teen and Festival labels.
Melton successfully auditioned for Sydney's Channel 7 in 1958, and he was often seen on local and national TV music shows including Channel 9's Bandstand, Channel 7's Tonight Show, and Sing, Sing, Sing, also from Channel 7. In October 1962 he presented Ray Melton Sings, a 15-minute Saturday evening series for ABC Radio.
The Teenagers' Weekly pages in The Australian Women's Weekly gave some biographical details in February 1961: Sydney's Ray Melton is a TV, radio, and recording star with a difference – he's also an interior decorator for a hotel-owning brewery. Ray came here from Hongkong as a baby, went to school in Wollongong… In July 1961 the Weekly reported that Melton and his mother had moved into a house in Bondi with a rosewood grand piano and a german shepherd called Key, named after his master's record The Key.

Col Joye's hit Teenage Baby (1959, #4 Sydney, #8 Melbourne, #7 Brisbane, #2 Adelaide) was written by Ray Melton with a co-writer credit to deejay Tony Withers. A version by Frank Ifield co-charted in Adelaide.
Not to be confused with Ray Melton (c.1939-2021), US country-rock singer from Murfreesboro, Tennessee, known for Boppin' Guitar (1960), on Nashville label Image. He seems to have performed in the 70s and 80s as Little Ray Melton, mainly in Panama City, Florida.
There was also a Ray Melton & His Country All Stars, who released She Hit The Ceilin' (When I Hit The Door) in 1951. I'm assuming that's yet another story, although it was on a Nashville label, Bullet, so perhaps there's a family connection with young Ray.
---
Image: Australian Women's Weekly, 27 January 1960 [via Trove].
References: I've drawn mainly on Screensound's First Wave discography, Australian label discographies at GlobalDogs.info, Australian Womens Weekly archives at Trove, Sydney Morning Herald archives. For a list of links to specific pages used, contact me.
Thanks to Dave Overett and Tony Watson.
---
Ken Dodd - The Key (1962)
B-side on Columbia by idiosyncratic stand-up comedian, ventriloquist, actor and singer (1927-2018) from Knotty Ash, Liverpool.
Although known as a theatre and TV comedian, Ken Dodd was also successful as a serious singer. He was often on the British charts 1960-1975, and became "one of the biggest recording artists of the 1960s". His charting records included the Top 10 hits Love Is Like A Violin (1960, #8 UK), Tears (1965, #1), The River (1965, #3), and Promises (1966, #6). Tears was the third top-charting record of the 60s after two Beatles tracks.
References, further reading: 1. "Ken Dodd 'third best-selling artist of 1960s'", BBC News, 1 June 2010. 2. Ken Dodd biography by Craig Harris at AllMusic.
---
Robert Earl - The Key (1959)
Single on Philips by British vocalist Robert Earl (b. 1926, Monty Leigh), an active recording artist from the mid-50s to the mid-60s.
This appears to be the only song written by Larry Kahn and Paul Junior. I have found no further information about either of them, apart from Kahn's co-write of Ev'rywhere, a B-side and album track by British singer David Whitfield [discogs.com].
---
Frankie Vaughan - The Key (1960)
Single on Columbia by Liverpool-born singer and actor, also something of a song-and-dance man, real name Frank Abelson (1928-1999). His signature tune was Give Me The Moonlight, Give Me The Girl [YouTube].
Frankie Vaughan had over 30 songs on the UK Top 40, 1954-1968. Many of them were covers of current American hits, including Jim Lowe's US #1 The Green Door (#2 UK for Vaughan, 1956), Joe Valino's #12 Garden Of Eden (#1, 1957), and Gene McDaniels' #5 Tower Of Strength (#1, 1961).
The classic original of Tower of Strength by Gene McDaniels managed only #49 UK in the same month that Vaughan's #1 cover version charted. To appreciate why, you probably had to be there in pre-Merseybeat Britain, but Frankie was a star, a likeable and popular entertainer. See, for example, his good-humoured appearances on Morecombe and Wise's TV show [YouTube].
---
Ronnie Gibson - The Key (1979)
EP on Bootleg, a small label in Stockton, Greater Manchester, founded by Roger Salmon and Phil Platt. It seems to have operated a custom pressing and recording service, with its own release numbers taking in BOOTLEG/001 (this record) to 010.
Ronnie Gibson (1939-2013) was a pub cabaret entertainer who was based in Manchester after moving from Ireland in his teens. He also toured to locations in Europe, but eventually gave that up to become licensee of a pub cabaret venue.
References, further reading: Apart from the sites linked in the text, see this page on Bootleg Studios which reasonably dates the record as 1979.
---
Julian Jorg - The Key (1971)
On EP Julian At St George on ATA by British tenor and entertainer (c.1931-1993), with the Warren Carr Orchestra. "St George" is the St George Leagues Club in Kogarah, Sydney.
Julian Jorg was active on the Australian clubs scene from the 1970s when he seems to have divided his time between the UK and Australia, although he probably became an Australian resident later. He was billed as "the big man of song" or "England's successor to Harry Secombe". On Britain's Opportunity Knocks in 1978 he was "the 23-stone tenor from Jersey".
Sources: 1. Opportunity Knocks: The Guardian, 14 March 1978. 2. Various 1970s venue ads via Trove newspaper archives.
Further reading: Julian Jorg discography at Discogs.com.