Charted early in February 1972.
Single on Impact by highly-regarded and popular Maori singer-guitarist (1953-2016), originally from the small North Island town of Katikati. Bunny Walters was a star in New Zealand, with five charting records 1970-74 and frequent appearances on TV music shows.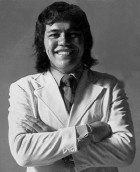 As a teenager he listened to offshore pirate station Radio Hauraki and picked up influences from such singers as The Drifters and (especially) Tom Jones. His singing had a soul edge to it, and he later said in an interview, "I didn't learn about the funkier stuff until I started living in the city and hanging out with other musicians."
He started off singing impromptu at local gatherings, and at 14 or 15 he joined with two brothers in an established band at Rotorua. After a false start going solo in Auckland at the age of 15, he was signed to the major label and agency of Impact Talent Associates. At 17 he was a hard-working professional, with his first single out on Impact, Just Out Of Reach.
His biggest hits were Brandy and Take The Money And Run. Browse all Bunny Walters records listed at this website.
References, further reading: 1. Bunny Walters obituary, "The Kid from Katikati" at NZ news site Stuff.co.nz. 2. Bunny Walters page at NZ music site Audio Culture. 3. Impact label at Audio Culture.
Suggested by Bob Wilson.
---
Scott English - Brandy (1971)
Single on Horse (UK), a subsidiary of Trojan, also on Janus (USA) early 1972. In Australia it was on Interfusion.
American singer, songwriter and producer Scott English was working in Britain when he wrote Brandy with British pianist Richard Kerr. He also wrote with Albert Hammond in Britain, 1969-71.
As a writer, English later teamed with Larry Weiss, with whom he wrote such songs as Ciao Baby (Lynne Randell and others), Bend Me, Shape Me (American Breed, Amen Corner) , Help Me Girl (Animals) and Hi Ho Silver Lining (The Attack, Jeff Beck).
Richard Kerr's other songwriting credits include Blue Eyes, a #3 UK hit for Don Partridge in 1968, and Somewhere In The Night, a US hit for both Helen Reddy (#19, 1976) and Barry Manilow (#9, 1979). See the All Music Guide's entry on Richard Kerr.
Further reading: Dave at AllExperts has summarised the story of "Brandy"/"Mandy" using quotations from Scott English, Richard Kerr and Barry Manilow.
Thank you to Joop Jansen for clarification and additional research.
---
Barry Manilow - Mandy (1974)
Single on Bell, the label that became Arista.
In this version the song became Mandy to avoid confusion with Brandy (You're A Fine Girl) by Looking Glass.
First of a string of hits by classically trained pop and cabaret star who worked in television and wrote jingles before being hired as musical director by Bette Midler. See biography at All Music Guide.
Mythbuster: The mistaken idea that New Zealand singer Bunny Walters wrote the song and that it was unfairly appropriated by Barry Manilow probably arises because Scott English's earlier, original version was not so well-known to some New Zealanders.
---
Looking Glass - Brandy (You're A Fine Girl) (1972)

SIMILAR TITLE BUT NOT THE SAME SONG AS
'BRANDY' BY BUNNY WALTERS.
Single on Epic by New Jersey rock band first formed by university students in 1969.
Elliot Lurie went on to a career in film, mainly as a musical supervisor. See his filmography at IMdB.