Bunny Walters - Take The Money And Run (1972)
Single on Impact (Image in Australia), with back-up vocals by The Yandall Sisters.
Bunny Walters was a highly-regarded and popular Maori singer-guitarist (1953-2016), originally from the small North Island town of Katikati. He was a star in New Zealand, with five charting records 1970-74 and frequent appearances on TV music shows.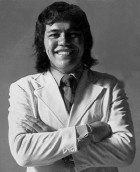 As a teenager he listened to offshore pirate station Radio Hauraki and picked up influences from such singers as The Drifters and (especially) Tom Jones. His singing had a soul edge to it, and he later said in an interview, "I didn't learn about the funkier stuff until I started living in the city and hanging out with other musicians."
He started off singing impromptu at local gatherings, and when he was 14 or 15 he joined with two brothers in an established band at Rotorua. After a false start going solo in Auckland at the age of 15, he was signed to the major label and agency of Impact Talent Associates. At 17 he was a hard-working professional with his first single out on Impact, Just Out Of Reach.
Take The Money And Run and Brandy (1971, #4 NZ) were his biggest hits. Browse all Bunny Walters records listed at this website.
References, further reading: 1. Bunny Walters obituary, "The Kid from Katikati" at NZ news site Stuff.co.nz. 2. Bunny Walters page at NZ music site Audio Culture. 3. Impact label at Audio Culture. 4. The Yandall Sisters at Bruce Sergent's NZ music site.
Joe Dolan - Take The Money And Run (1972)
Single on Pye YouTube by Irish singer and entertainer (1939-2007), former newspaper compositor who fronted The Drifters, the showband formed with his brother in 1960, later known as Joe Dolan & The Drifters
Dolan had some 30 charting singles in Ireland in the 60s, 70s and 80s, including six #1s. His biggest hits outside Ireland were in the UK, with Make Me An Island (1969 #3 UK) and You're Such A Good Looking Woman (1970 #17 UK), both of which charted in Australia. He also had a minor hit in Australia with Teresa (1969), but his biggest hit down here was Lady In Blue (1975, #2 Melbourne #3 Sydney #3 Adelaide #8 Brisbane #6 Perth).
Further reading: The Drifters and Joe Dolan at IrishShowbands.com. (The whole site is essential reading if you want to explore Ireland's showband phenomenon.)
---
The writers, John Carter and Geoff Stephens, were behind many British hit recordings, especially during the late 60s and into the 70s. Their composition Knock Knock, Who's There? was an Australian hit for Liv Maessen in 1970
John Carter (born John Shakespeare) is usually associated with Ken Lewis (born Kenneth James Hawker), his longtime partner in songwriting and performing since the end of the 50s. With Perry Ford, they recorded as The Ivy League from 1965. Later, Carter and Lewis were involved, for example, in The Flowerpot Men (Let's Go To San Francisco), White Plains (My Baby Loves Lovin') and First Class (Beach Baby).
Geoff Stephens, who collaborated with a number of other writers, wrote Winchester Cathedral, the oldtime-radio styled hit for his New Vaudeville Band, a project that included John Carter on vocals.
---
Carter and Stephens were among a number of British songwriters, many of whom worked as performers and producers, whose projects were seldom off the charts during the late 60s and early 70s.
For more details, including a partial list of Carter and Stephens compositions, see under Knock Knock Who's There?
Steve Miller - Take The Money And Run (1976)
SAME TITLE BUT NOT THE SAME SONG AS
'TAKE THE MONEY AND RUN' BY BUNNY WALTERS.
Single on Capitol, USA YouTube. In other countries, including Australia and the UK, the artist is shown as Steve Miller Band.
---

Some other red herrings:
• Gallagher And Lyle – Take The Money And Run (Gallagher And Lyle)
UK 1980 Single on Mercury.
• David Crosby & Graham Nash – Take The Money And Run (Graham Nash)
USA 1975 On LP Wind On The Water + single on ABC (1976)
• David Clayton-Thomas – Take The Money And Run (Clayton-Thomas – Wm Smith) UK 1974 Single on RCA, B-side by Blood Sweat & Tears frontman.
Ben Cramer - Take The Money And Run (1976)
Single on Omega International, B-side of Sorrow, by Dutch singer and actor from the Oosterpark neighbourhood in Amsterdam (b. Kramer, 1947). He had many charting singles in The Netherlands from 1967 and throughout the 70s. He was a multiple participant in Eurovision, later went into the musical stage and TV, and has remained active into the 2010s.
Further reading: 1. Ben Cramer at Wikipedia (Nederlands). 2. Official site at bencramer.nl.