Single on Go!!

Melbourne's Bobby Bright and Laurie Allen had a number of pop hits in the mid-60s, from the danceable Laurie Allen composition I Belong With You (1965) to the country style Hitch-hiker. They were regulars on the Go!! TV pop show and later had their own show on ABC-TV (Australia), It's A Gas, later Dig We Must.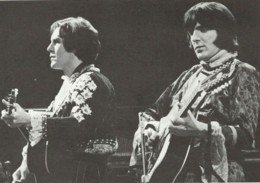 Bobby & Laurie broke up in 1967 but their 1969 reunion produced two further hits, The Carroll County Accident (1969) and Through The Eyes Of Love (1970).
Later, Laurie Allen moved into country music, and Bobby Bright, who had been a disc jockey with Melbourne radio station 3XY, also acted on TV and film (his career is summarised, incompletely, at the Internet Movie DataBase).
References, further reading: 1. Ian McFarlane, Encyclopedia of Australian Pop & Rock. 2. Bobby & Laurie page at Milesago. 3. Essential: the Bobby & Laurie page and discography at Bonnie's Laurie Allen Tribute site.
Thanks to Terry Stacey for suggestion and initial research.
---
Doris Troy - Someone (Ain't Right) (1963)
On Atlantic album Just One Look.
New York-born singer-songwriter Doris Troy (Doris Higginson, 1937-2004) moved to Britain after she charted there with What'cha Gonna Do About It (1964, #37 UK; recharted 1965, #38 UK). She became a regular on the Ready Steady Go TV show and was signed to the Beatles' Apple label where her album Doris Troy was recorded with the participation of Eric Clapton, Peter Frampton, George Harrison, Ringo Starr and Stephen Stills.
As a backing singer Troy worked, for example, with Dionne Warwick, Dusty Springfield, George Harrison (My Sweet Lord) The Rolling Stones (You Can't Always Get What You Want), Carly Simon (You're So Vain), Pink Floyd (Dark Side Of The Moon) and Nick Drake (Poor Boy on Bryter Later). The successful 1983 musical Mama, I Want to Sing, written by her sister and brother-in-law, was based on Doris Troy's life.
From the early 1950s, singer and songwriter Gregory Carroll (John Carroll, 1929-2013) was in several vocal groups including The Four Buddies, The Orioles and The Dappers. He also worked as a producer, for example with Sonny Til from The Orioles.
Gregory Carroll and Doris Troy both sang in gospel group The Halos, and they both filled in with the ubiquitous R&B backing vocal group The Cues. They wrote Just One Look together, and Carroll produced Troy's demo version that was picked up for release by Atlantic Records. It became a hit (1963, #10 USA) as did The Hollies' version (1964, #2 UK).
Carroll And Troy also wrote her British charting single What'cha Gonna Do About It. See also Rev Black & The Rockin' Vicars' Australian version of What'cha Gonna Do About It and Lynne Randell's Be Sure, another Payne/Troy-Carroll composition.
Doris Troy used her grandmother's surname Payne for her writing credits.
References, further reading:
Doris Troy: Doris Troy at Apple Records. Doris Troy: New York Times obituary. Doris Troy at Spectropop.
Gregory Carroll: The Gregory Carroll Tribute at Classic Urban Harmony. See also Marv Goldberg's pages on The Four Buddies, The Dappers and The Cues; and Mitch Rosalsky's entry on The Orioles in his Encyclopedia of Rhythm & Blues and Doo-Wop Vocal Groups [Google Books excerpt]
---
West Five - Someone Ain't Right (1965)
There was an earlier, unrelated band, originally a skiffle band from Ealing, that recorded as West Five and other names for producer Joe Meek in 1959-60.
The West Five of Someone Ain't Right, first known as The 4, released three singles on HMV 1965-1966. They seem to have concentrated on cover versions: The Rolling Stones' Congratulations, The Zombies' If It Don't Work Out and The Reflections' (Just Like) Romeo And Juliet (the B-side of Someone Ain't Right), although two of their B-sides were originals, composed by Don Broughton who seems to have been a band member at some stage.
At least one of those sessions, for Congratulations, was produced at Abbey Road Studios by John Burgess, a major producer who worked on hit records by Adam Faith, Manfred Mann and Freddy & The Dreamers.
Further reading: I haven't found a narrative history of the band. The Radio London site has some information about West Five personnel, some of it contributed by band member Mike Snow (then known as Mike Liston), who – among other achievements – wrote Rosetta, a 1971 UK #11 for Fame And Price, Price And Fame Together.
---
Peter & Gordon - Someone (Ain't Right) (1965)
On Capitol album I Go To Pieces by British Invasion hitmakers Peter Asher and Gordon Waller.