Melbourne's Bobby Bright and Laurie Allen had a number of pop hits in the mid-60s, from the danceable Laurie Allen composition I Belong With You (1965) to the country style Hitch Hiker. They were regulars on the Go!! TV pop show and later had their own show on ABC-TV (Australia), It's A Gas, later Dig We Must.
Bobby & Laurie broke up in 1967 but their 1969 reunion produced two further hits, The Carroll County Accident (1969) and Through The Eyes Of Love (1970).
Later, Laurie Allen moved into country music, and Bobby Bright, who had been a disc jockey with Melbourne radio station 3XY, also acted on TV and film (his career is summarised, incompletely, at the Internet Movie DataBase).
Double-sided hit in Brisbane with You'll Come Around.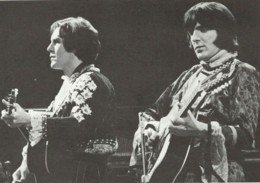 References, further reading: 1. Ian McFarlane, Encyclopedia of Australian Pop & Rock. 2. Bobby & Laurie page at Milesago. 3. Essential: the Bobby & Laurie page and discography at Bonnie's Laurie Allen Tribute site.
Roger Miller - Hitch-hiker (1962)
Single on RCA Victor, B-side of Sorry, Willie. Also on the 1964 album Songs I Have Written.
On the single, the title is Hitch-hiker with a hyphen, but on the album it is Hitch Hiker, as on the Bobby And Laurie single.