Bobby And Laurie - Through The Eyes Of Love (1970)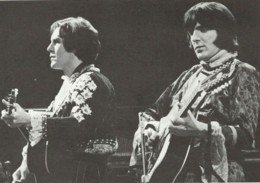 Melbourne's Bobby Bright and Laurie Allen had a number of pop hits in the mid-60s, from the danceable Laurie Allen composition I Belong With You (1965) to the country style Roger Miller song Hitchhiker (1966). They were regulars on the Go!! TV pop show and later had their own show on ABC-TV (Australia), It's A Gas, later Dig We Must.
Bobby & Laurie broke up in 1967 but their 1969 reunion produced two further hits, The Carroll County Accident (1969) and Through The Eyes Of Love.
Later, Laurie Allen moved into country music, and Bobby Bright, who had been a disc jockey with Melbourne radio station 3XY, also acted on TV and film (his career is summarised, incompletely, at the Internet Movie DataBase).
References, further reading: 1. Ian McFarlane, Encyclopedia of Australian Pop & Rock. 2. Bobby & Laurie page at Milesago. 3. Essential: the Bobby & Laurie page and discography at Bonnie's Laurie Allen Tribute site.
Suggestion from James Churchley.
---
Tompall & Glaser Brothers - Through The Eyes Of Love (1967)
Single on MGM label, B-side of She Loved The Wrong Man. Also on 1968 album Through The Eyes Of Love.
Produced by co-writer Cowboy Jack Clement.
Tompall Glaser and his brothers Chuck and Jim, from Spaulding, Nebraska, started out as a folk trio in the late 50s, went on to work in Nashville and on the Grand Ole Opry, and were produced by Jack Clement from the mid-60s. They later established their own successful studio in Nashville, known as Hillbilly Central, and after their split in the early 70s Tompall Glaser went on to a solo career in the 'outlaw' sub-genre of country music.
Once a bluegrass performer, Jack Clement (b. 1931) wrote Johnny Cash's Ballad Of A Teenage Queen and I Guess Things Happen That Way while working in production at Sun in Memphis. As a producer, studio owner, record executive, songwriter and publisher he has been a force in the careers of such country artists as George Jones, Charley Pride, Don Williams and Townes Van Zandt, as well as releasing albums of his own work.
References: All Music Guide to Country; Cowboy Jack Clement page at cmt.com.
---
Allen Reynolds - Through The Eyes Of Love (1961)
Single on RCA label, produced by co-writer Jack Clement.
Allen Reynolds (b. 1938), songwriter, producer, publisher and studio owner, made his mark writing songs with college pal Dickey Lee, including Lee's 1963 hit I Saw Linda Yesterday.
Reynolds and Lee first met Jack Clement at Sun Records in Memphis, and went on to work for him in the early 60s. Reynolds wrote The Vogues' 1965 hit Five O'Clock World, used to good effect in the TV series The Drew Carey Show from 1995.
Colleen Hewett's 1979 Australian hit Dreaming My Dreams With You (originally by Waylon Jennings) is another Allen Reynolds composition.
From 1970, Allen Reynolds produced numerous country artists for Jack Clement's JMI Records in Nashville, notably Garth Brooks.
See the Allen Reynolds page at the Nashville Songwriters Foundation Hall of Fame.
Through The Eyes Of Love was also recorded, for example, by Gene Watson, single on Resco, c.1972.
---
Doris Day - Through The Eyes Of Love (1957)
Same title but not the same song as "Through The Eyes Of Love" by Bobby & Laurie.
Single on Columbia label, B-side of Nothing In The World.
---
Melissa Manchester - Through The Eyes Of Love [Theme From 'Ice Castles'] (1978)
Same title but not the same song as "Through The Eyes Of Love" by Bobby & Laurie".
Sung by Melissa Manchester on the film's soundtrack, also released as a single on Arista label.
---