Bobby And Laurie - The Carroll County Accident (1969)
Melbourne's Bobby Bright and Laurie Allen had a number of pop hits in the mid-60s, from the danceable Laurie Allen composition I Belong With You (1965) to the country style Roger Miller song Hitchhiker (1966). They were regulars on the Go!! TV pop show and later had their own show on ABC-TV (Australia), It's A Gas, later Dig We Must.
Bobby & Laurie broke up in 1967 but their 1969 reunion produced two further hits, The Carroll County Accident and Through The Eyes Of Love (1970).
Later, Laurie Allen moved into country music, and Bobby Bright, who had been a disc jockey with Melbourne radio station 3XY, also acted on TV and film (his career is summarised, incompletely, at the Internet Movie DataBase).
References, further reading: 1. Ian McFarlane, Encyclopedia of Australian Pop & Rock. 2. Bobby & Laurie page at Milesago. 3. Essential: the Bobby & Laurie page and discography at Bonnie's Laurie Allen Tribute site.
Suggestion from by John Yeager.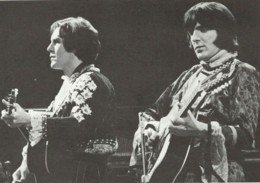 ---
Dolly Parton - The Carroll County Accident (1969)
On RCA-Victor album Those Were The Days.
Dolly Parton's career took off after appearances on Porter Wagoner's TV show, and the pair had several country hits together, beginning with Tom Paxton's The Last Thing On My Mind (1967).
---
Porter Wagoner - The Carroll County Accident (1968)
Porter Wagoner: country music giant (b. 1927) from West Plains, Missouri, first joined The Grand Old Opry in 1957 and hosted the syndicated Porter Wagoner Showon television for 21 years from 1960. From the late 60s he and Dolly Parton recorded as a duo after he introduced her on his TV show.
The Carroll County Accident, by country music producer and songwriter Bob Ferguson, was the Country Music Association's Song of the Year, 1969.
Bob Ferguson wrote Ferlin Husky's 1960 hit Wings Of A Dove (#2 Sydney, #9 Melbourne, #2 Brisbane, #2 Adelaide). He produced both Porter Wagoner and Dolly Parton, among other country music artists. See Bob Ferguson's 2001 obituary from The Tennessean newspaper.
Carroll County is a real place in Tennessee, and the song was written after Bob Ferguson had driven through it on Highway 70 on his way from Nashville to Memphis (story at WordIQ).
Also recorded by Ernest Tubb (1969) and Mel Tillis (1969).
---
Ben Colder [sheb Wooley] - The Carroll County Accident #2 (1969)
Single on MGM, B-side of His Lincoln's Parked At Margie's Again, also on the 1969 album Have One On.
Sheb Wooley (1921-2003), who wrote and recorded the 1958 novelty hit
The Purple People Eater, made several albums of comic songs and parodies as "Ben Colder", a drunken comedy character he had introduced into his stage act.
As Ben Colder, Sheb Wooley had minor hits in Australia with Don't Go Near The Eskimos (1962, a parody of Rex Allen's hit Don't Go Near The Indians) and 15 Beers Ago (1971).
See, for example, Sheb Wooley page at EncycloComedia.