Bev Harrell - One Way Ticket (1969)
Single on Columbia by Adelaide singer based in Melbourne. Produced by Mike Perjanik.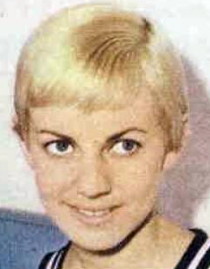 Bev Harrell started singing as a six-year-old on a children's radio talent show. As a teenager she guested with live bands, and joined a new line-up of The Clefs as joint lead singer with Barrie McAskill, with the great Tweed Harris on keyboards. Harrell stayed in Adelaide when the band moved away to Melbourne, but she did eventually go professional and move to Melbourne. By then she was managed by her boyfriend Daryl Sambell who would later manage Johnny Farnham's early career.
After moving to Melbourne, she was often seen on the current TV pop shows and was signed to EMI Records. Her first single, What Am I Doing Here With You (1967) was a national hit, and she also charted with Come On Over To Our Place / You Don't Love Me No More (1967) and One In A Million (1968). She released her first album This Is Bev in 1967. Bev Harrell's career has continued well beyond the 60s. Follow the links below to fill in the full story.
Further reading: 1. Bev Harrell biography at Milesago. 2. Bev Harrell: official site at bevharrell.com.au 3. The Clefs history at Barrie & Jan McAskill's website. 4. "Won with First Disc": Bev Harrell profile in Australian Women's Weekly, 9 August 1967, archived facsimile at Trove.nla.gov.au
---
Sonja With The Flick Sound - One Way Ticket (1968)
Single on Président* (France) also on British single on RIM.
The writers:
Guitarist Vic Flick and drummer Doug Wright both joined successful rockn'n'roll band The John Barry Seven in 1958, replacing original members.
Flick is heard playing the distinctive guitar riff on the now-famous James Bond Theme from the first Bond film Dr No, written by Monty Norman and arranged by John Barry. It was released on a single by The John Barry Seven And Orchestra (1962, #13 UK) YouTube. Barry would become famous for his themes and scores, especially for eleven subsequent James Bond films.
Flick was "one of Britain's most prolific session guitarists from the 1960s onwards" (Mo Foster, Seventeen Watts, 1998, Amazon). He played on numerous tracks by major artists, some of which are listed at his website, including the UK #1 hits Anyone Who Had a Heart (Cilla Black, 1964), Have I the Right (The Honeycombs, 1964), Green Green Grass Of Home (Tom Jones,1966), The Sun Ain't Gonna Shine Anymore (The Walker Brothers, 1966), and Release Me (Engelbert Humperdinck, 1967).
---
* Discogs.com dates the French release as 1966. That could be right but 1968 seems more likely.
Further reading: 1. Official Vic Flick website. 2. Vic Flick talks about the James Bond Theme at YouTube. 3. Monty Norman v. The Sunday Times: The "James Bond Theme" Lawsuit clarifies composer vs arranger credits for the theme.
Merci à Philippe. Additional sources from Terry Stacey.
---
Helen Reddy - One Way Ticket (1968)

SAME TITLE BUT NOT THE SAME SONG AS
'ONE WAY TICKET' BY BEV HARRELL.
See under Helen Reddy – One Way Ticket for song history.
---
Neil Sedaka - One Way Ticket (To The Blues) (1959)
SIMILAR TITLE BUT NOT THE SAME SONG AS
'ONE WAY TICKET' BY BEV HARRELL.
Single on RCA, B-side of Oh! Carol, Neil Sedaka's second charting record and first Top 10 hit (#9 USA) YouTube. Also known simply as One Way Ticket (on the UK release).
Later popularised by UK disco group Eruption (as One Way Ticket), single on Atlantic/Hansa (1979, #9 UK) YouTube.
There are many different songs entitled One Way Ticket.
For more examples see here.