Bev Harrell - What Am I Doing Here With You (1967)
Single on HMV, produced by David Mackay, biggest hit for Adelaide singer based in Melbourne. This version apparently substitutes Doing for the Doin' of the original title.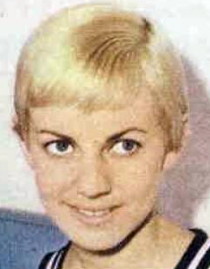 Bev Harrell started singing as a six-year-old on a children's radio talent show in Adelaide. As a teenager she guested with live bands, and joined a new line-up of The Clefs as joint lead singer with Barrie McAskill, with the great Tweed Harris on keyboards. Harrell stayed in Adelaide when the band moved away to Melbourne, but she did eventually go professional and move to Melbourne. By then she was managed by her boyfriend Daryl Sambell who would later manage Johnny Farnham's early career.
After moving to Melbourne, she was seen on the current TV pop shows and was signed to EMI Records. As well as achieving a national hit with her first single What Am I Doing Here With You, she also charted with Come On Over To Our Place / You Don't Love Me No More (1967) and One In A Million. She released her first album This Is Bev in 1967. Bev Harrell's career lasted well beyond the 60s, into the 70s and on to the new century. Follow the links below to fill in the full story.
Further reading: 1. Bev Harrell biography at Milesago which I have drawn on heavily above. 2. Bev Harrell: official site at bevharrell.com.au 3. The Clefs history at Barrie & Jan McAskill's website. 4. "Won with First Disc": Bev Harrell profile in Australian Women's Weekly, 9 August 1967, archived facsimile at Trove.nla.gov.au
---
P. F. Sloan - What Am I Doin' Here with You (1965)
On 1965 Dunhill album, Songs of Our Times, reviewed in Billboard 25 September 1965 [view at Google Books].
What Am I Doin' Here with You was also recorded by Dev Douglas (UK), Jenny Canton (South Africa) and Faux Freres (France): see the Discography of Cover Versions at the P. F. Sloan website.
P. F. Sloan & Steve Barri's songwriting collaborations include Secret Agent Man (Johnny Rivers) and A Must To Avoid (Herman's Hermits). They also wrote Say It Again, recorded in Australia by Ray Brown & The Whispers.
P.F. Sloan's best-known composition is probably Eve Of Destruction (Barry Maguire), and he also wrote, for example, Take Me For What I'm Worth (The Searchers) and I Found A Girl (Jan & Dean).
Further reading: discographies and background at the P.F. Sloan website.
---
P-Nut Butter - What Am I Doin' Here with You (1966)
Band from Phoenix Arizona.
B-side of single on Tower label, Still In Love With You Baby.
---
Twinkle - What Am I Doin' Here with You (1966)
British singer, real name Lynn Ripley, best known for 1964 hit Terry.
Single on Decca label.
---
Johnny Rivers - What Am I Doin' Here with You (1965)
On 1965 album Johnny Rivers In Action, on the Imperial label.
Reviewed in Billboard 13 February 1965 [view at Google Books], this appears to have been released before P.F. Sloan's own version.
---
The Chicks - What Am I Doing Here With You (1968)
Single on Polydor by the Donaldson sisters, Judy (b.1950) and Suzanne (b.1952). They had a hit in 1969 with Miss You Baby (#5 NZ). Suzanne then became a successful solo singer as Suzanne Lynch, her married name, and later worked as a session vocalist for a number of big names in the UK and toured and recorded for several years with Cat Stevens. More recently she has joined three other well-known female New Zealand singers in The Lady Killers.
References, further reading: 1. Bruce Sergent's page on The Chicks has a solid bio and several images from back in the day. 2. Vernon Johnson, Dreams, Fantasies and Nightmares. 3. Forum thread on The Chicks at nzmusic60s70s. 4. Dean Scapalo, New Zealand Music Charts [store]. 5. SuzanneLynch.co.nz. 6. Suzanne Donaldson: bio and data at Rockonz. 7. The Lady Killers.
Version alert from Terry Stacey.