Bev Harrell - Come On Over To Our Place (1967)
Single on HMV by singer from Adelaide, based in Melbourne. Produced by David Mackay,
Double-sided hit in Adelaide and Perth with You Don't Love Me No More.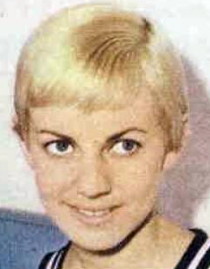 Bev Harrell started singing as a six-year-old on a children's radio talent show in Adelaide. As a teenager she guested with live bands, and joined a new line-up of The Clefs as joint lead singer with Barrie McAskill, with the great Tweed Harris on keyboards. Harrell stayed in Adelaide when the band moved away to Melbourne, but she did eventually go professional and move to Melbourne. By then she was managed by her boyfriend Daryl Sambell who would later manage Johnny Farnham's early career.
After moving to Melbourne, she was seen on the current TV pop shows and was signed to EMI Records. As well as achieving a national hit with her first single What Am I Doing Here With You (1967), she also charted with Come On Over To My Place / You Don't Love Me No More (1967) and One In A Million (1968). She released her first album This Is Bev in 1967. Bev Harrell's career lasted well beyond the 60s, into the 70s and on to the new century. Follow the links below to fill in the full story.
---
Another Australian single on Sunshine by Tony Shepp, Come On Over To My Place (1966), is presumably the same song.
---
Further reading: 1. Bev Harrell biography at Milesago which I have drawn on heavily above. 2. Bev Harrell: official site at bevharrell.com.au 3. The Clefs history at Barrie & Jan McAskill's website. 4. "Won with First Disc": Bev Harrell profile in Australian Women's Weekly, 9 August 1967, archived facsimile at Trove.nla.gov.au
Tony Shepp - Come On Over To My Place (1966)
Single on Sunshine, QK-1382. I'm assuming this is the same song, although I haven't been able to verify it.
Tony Shepp (Anthony Shipp, 1946-1988) was a singer, saxophonist, actor and songwriter from Adelaide who played in a number of bands including the early Clefs, and performed many times on TV's Go!! Show. As a TV actor in the late 60s-early 70s he appeared in popular police dramas Homicide (6 episodes) and Division 4 (21 episodes as Const. Tony Grice). He released two singles in 1966, Come On Over To My Place on Sunshine and Come To Your Window on Kommotion.
See also under Security.
References: 1. This page at Music Minder has more information about Tony Shepp than I've seen anywhere else. 2. Tony Shepp biography and filmography at IMDb.
The Drifters - Come On Over To My Place (1965)
Note title change, my to our in Bev Harrell's version.
Reissued in UK in 1972 and charted again, peaking at #9.