Bev Harrell - Come On Over To Our Place (1967)
Single on HMV by singer from Adelaide, based in Melbourne. Produced by David Mackay,
Double-sided hit in Adelaide and Perth with You Don't Love Me No More.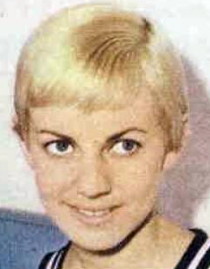 Bev Harrell started singing as a six-year-old on a children's radio talent show in Adelaide. As a teenager she guested with live bands, and joined a new line-up of The Clefs as joint lead singer with Barrie McAskill, with the great Tweed Harris on keyboards. Harrell stayed in Adelaide when the band moved away to Melbourne, but she did eventually go professional and move to Melbourne. By then she was managed by her boyfriend Daryl Sambell who would later manage Johnny Farnham's early career.
After moving to Melbourne, she was seen on the current TV pop shows and was signed to EMI Records. As well as achieving a national hit with her first single What Am I Doing Here With You (1967), she also charted with Come On Over To My Place / You Don't Love Me No More (1967) and One In A Million (1968). She released her first album This Is Bev in 1967. Bev Harrell's career lasted well beyond the 60s, into the 70s and on to the new century. Follow the links below to fill in the full story.
Further reading: 1. Bev Harrell biography at Milesago which I have drawn on heavily above. 2. Bev Harrell: official site at bevharrell.com.au 3. The Clefs history at Barrie & Jan McAskill's website. 4. "Won with First Disc": Bev Harrell profile in Australian Women's Weekly, 9 August 1967, facsimile at Trove.
---
The Drifters - Come On Over To My Place (1965)
B-side on Atlantic. Reissued in UK in 1972 and charted again, peaking at #9.
Note the title change in Bev Harrell's version, from my to our.
Vocal group The Drifters appear to have a history going back to 1953 with lead singer Clyde McPhatter, when they recorded some r&b classics that included Money Honey (1953), Such A Night (1954), and (with McPhatter's main successor Johnny Moore) Ruby Baby (1956).
In fact, after McPhatter's departure, and numerous personnel changes and disputes with management, a struggling group called The Crowns were recruited to move in as The Drifters in 1959. This marked a movement towards a more pop-oriented sound, when the new Drifters recorded There Goes My Baby (1959, #2 USA), with an an innovative sound produced by Jerry Leiber and Mike Stoller. The song was co-written by Ben E. King, one of the new recruits, who would later follow a successful solo career.
Fourteen other Top 40 records followed for The Drifters 1959-64, along with further comings and goings in the line-up. Following There Goes My Baby, their biggest hits in the US were Save The Last Dance For Me (1960, #1), Up On The Roof (1962, #5), On Broadway (1963, #9,) and Under The Boardwalk (1964, #4).
Many of their best known songs were by major pop songwriters of the day, including Doc Pomus & Mort Shuman, Gerry Goffin & Carole King, and Barry Mann & Cynthia Weil.
---
Some Drifters originals are also known through versions by other artists:
• Such A Night (1954): a UK #1 by Johnnie Ray (1954), and a track on Elvis Presley's Elvis is Back (1960) that was also released as a single (1964, #16 USA, #14 UK);
• Ruby Baby (1956): released on a hit single by Dion (1963, #2 USA);
• Under The Boardwalk (1964): The Rolling Stones' version was on their album 12X5 (1964), and on a single in some countries including Australia (1965, #1).
---
The lead singer on Come On Over To My Place is Johnny Moore, who had sung lead with The Drifters on pre-There Goes My Baby records 1955-56 and rejoined in 1963. He is heard singing lead, for example, on Under The Boardwalk and on Saturday Night At The Movies (1964, #18 USA but a Top 10 hit in Australia).
Sources, further reading: The history of The Drifters is complicated, with two distinct phases and many members. 1. The definitive account is Bill Millar's 1971 book The Drifters: the rise and fall of the black vocal group. It's out of print but you can read a facsimile copy at the Internet Archive (free registration required). 2. Bill Eder's Drifters biography at All Music covers all the essentials as succinctly as possible. 3. Wikipedia's Drifters Discography is a handy reference in table form. 4. Phil Hardy & Dave Laing, The Encyclopedia of Rock, Volume 1: The Age of Rock'n'Roll (1976), entry on The Drifters. This is also of print: see facsimile copy of enlarged edition (1987) at Internet Archive (free registration required).
---
Tony Shepp - Come On Over To My Place (1966)
Single on Sunshine, QK-1382. I'm assuming this is the same song, although I haven't been able to verify it.
Tony Shepp (Anthony Shipp, 1946-1988) was a singer, saxophonist, actor and songwriter from Adelaide who played in a number of bands including the early Clefs, and performed many times on TV's Go!! Show. As a TV actor in the late 60s-early 70s he appeared in popular police dramas Homicide (6 episodes) and Division 4 (21 episodes as Const. Tony Grice). He released two singles in 1966, Come On Over To My Place on Sunshine and Come To Your Window on Kommotion.
See also under Security.
References: 1. Tony Shepp biography and filmography at IMDb. 2. Tony Shepp biography at Music Finder.
---
Jerry Cole - Come On Over To My Place (1965)
B-side on Capitol, by frequently booked session guitarist Jerry Cole (Jerald Kolbrak, 1939-2008) who appeared on numerous records throughout the 60s and 70s (often uncredited or under a pseudonym), many of them by major artists including The Beach Boys and The Byrds. Among his own recordings is a series of instrumental albums by Jerry Cole And His Spacemen.
This single was produced by Steve Douglas, arranged and conducted by Jack Nitzsche. See also the A-side, the original version of Every Window In The City, covered in Australia by Perth's Times.
Further reading: To get an appreciation of Jerry Cole's wide-ranging career, try the biographies at All Music, Wikipedia and Rockabilly Hall of Fame.
---
Dewey Edwards - Come On Over To My Place (1965)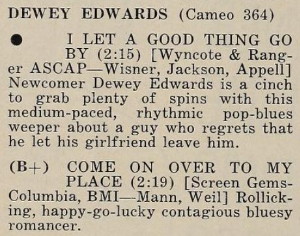 The single was reviewed in Cash Box and is listed in numerous discographies, but after some thorough searching Dewey Edwards remains a mystery to me (and I'm not alone there).
The B-side credits for producer Lamont Cranston and arranger "Margo" are no help. Lamont Cranston was the alias of The Shadow in the old radio serial, and his partner was Margo Lane.
Interest in the A-side I Let A Good Thing Go By has revived with its inclusion in the game Mafia III (2016) [YouTube].
---
The Bye-Laws - Come On Over To My Place (1968)
B-side on Target by popular Dublin beat band. Also on Pye in UK. The A-side was a cover of John D. Loudermilk's composition Then You Can Tell Me Goodbye, a recent hit for The Casinos (1967, #6 USA).
Further reading: The Bye-laws at IrishShowBands.net.