Helen Reddy - One Way Ticket (1968)
Single on Fontana, B-side of Go.
Reviewed:
Cash Box 16 Mar 1968, p.24;
Record World 23 Mar 1968, p.10.
One Way Ticket was the A-side on the Australian single on Philips, Go was the B-side.
This was the first single by Australian singer Helen Reddy (1941-2020), recorded and released in the USA. She had moved there in 1966, after a number of years on Australian TV and stage without cutting a record locally.
Reddy was from Melbourne, and the small impression One Way Ticket made on Melbourne radio surveys resulted in this being her first charting single ever, anywhere. Four years later she was a star, topping the charts internationally with I Am Woman (1972) and winning a Grammy for it. She would sell millions of albums, and chart #1 in the US twice more.
Clipping [above]: Helen Reddy farewells hometown TV audience on high-rating Channel 9 show, 7 April 1966.
I Am Woman, a film of Helen Reddy's life, was released in 2019 with Tilda Cobham-Hervey as Reddy.
Helen Reddy's One Way Ticket was sampled on Badder Badder Schwing (1999) by Freddy-Fresh feat. Fatboy Slim YouTube. Co-writer Stephen Lawrence commented at YouTube, Badder Badder Schwing did sample the opening four-chord progression and [they] did the right thing: they licensed it.
Reference: Ian McFarlane, Encyclopedia of Australian Rock & Pop, (1999), pp.516-7
Further reading: Helen Reddy's official site at helenreddy.com
---
Gloria Loring - One Way Ticket (1968)
On album Today
Reviewed:
Record World, 17 Feb 1968, p.14;
Billboard, 2 Mar 1968, p.58.
Singer, actor and songwriter Gloria Loring has had a long and varied career since she started out as a 14-year-old in a folk group in the 1960s. Follow the links below for the long story, but highlights have included writing theme songs for TV shows including Diff'rent Strokes and The Facts of Life, holding down a regular role in The Days of Our Lives, and recording a hit song with co-star Carl Anderson, Friends And Lovers (1986, #2 USA).
The writers:
Stephen J. Lawrence is a prolific composer of songs, scores and incidental music for TV, film and stage. He has written "over 300 songs and scores" for Sesame Street. See his credits page at his website.
Bruce Hart (1938-2006) was a lyricist, screenwriter, producer and director. He co-wrote the lyrics to the main Sesame Street theme song, and collaborated with his wife Carole, a children's TV producer, on Sesame Street sketches and on other productions.
Lawrence and Hart collaborated on several songs, including Rex Smith's You Take My Breath Away (1979, #10 USA).
Further reading, references: 1. Gloria Loring biography by Kim Summers at All Music. 2. Gloria Loring's official biography at J. Cast Productions agency. 3. Stephen Lawrence: official site. 4. Bruce Hart bio at IMDb. 5. Wikipedia pages for Hart and for Lawrence.
---
Chris Rayburn - One Way Ticket (1968)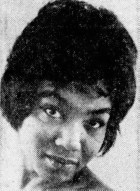 Single on UK label Music Factory July 1968. Also released in USA on MGM.
Jazz-pop-soul singer Chris Rayburn (born c.1937, aka Christine Rayburn) was from Chicago's South Side but worked for a few years in Europe. In Chicago in the early 60s she also sang as Tina Montez.
Her first album Chris Rayburn (1966) was recorded in London, with musical direction by British composer and musician Johnny Scott. She also released five singles in the UK 1964-69, on Parlophone, Music Factory and (as Christine Rayburn) Pye.
She guested on British TV shows 1963-68 including The Charlie Drake Show and Morecambe and Wise's Two of a Kind.
Before her European sojourn, Chris Rayburn had a residency withThe Johnny Pate Trio at the Counterpoint Jazz Supper Club in Chicago (1961), and a season at notable New York jazz club The Left Bank (1962). By the mid-70s she was back in Chicago and appearing at local nightspots, including shows with The Chris Rayburn Trio 1975-76.
50 years later: Although her style was probably mainstream jazz with some cross-over into soul-tinged pop, Chris Rayburn's British singles can now be found filed under Northern Soul, especially One Way Ticket ("Hard To Find UK Northern Soul") and I Cried My Last Tear Over You ("fabulous 1964 Northern Soul sleeper"). In 2015 One Way Ticket was on Le Beat Bespoke #6, a collection of "rare underground dancefloor fillers" from Detour Records.
---
This artist biography is my work, based on original research. If you use it, please credit me or this website. ©Lyn Nuttall 2019
Discogs.com's biography of Chris Rayburn is copied and pasted from this page which is linked but not credited.
One Way Ticket was arranged by Harry Robinson (1932-1996), the versatile and prolific Scottish film composer, music director, bandleader, arranger, scriptwriter and author, birth surname Robertson. One of his feats was to devise and record the novelty instrumental hit Hoots Mon (1958, #1 UK), released under the name Lord Rockingham's XI. In complete contrast, he wrote the sublime string arrangement for Nick Drake's song from Five Leaves Left, River Man (1969) YouTube.
The producer was Mike Hurst, a former member of The Springfields whom he joined before their peak success with Silver Threads And Golden Needles (1962,#20 USA), Island Of Dreams (1962, #5 UK) and Say I Won't Be There (1963, #5 UK). He produced many big names in 60s British pop, notably Cat Stevens, whose early career he facilitated while producing his earliest chart successes and his first two albums on Deram 1966-67.
References, further reading: 1. Liner notes, Chris Rayburn (1966 album) at Discogs.com. 2. On Chris Rayburn performing as Tina Montez at The Counterpoint Supper Club, Chicago, see The Bulletin, February 2, 1961, p.6, facsimile at NewspaperArchive.com (subscription required). 3. (i) British newspaper TV guides (Chris Rayburn) accessed via Gale Primary Sources; (ii) Chris Rayburn at IMDb. 4. Chris Rayburn appearances 1961-2 and 1974-1982: ads and reviews in Chicago and New York press. 5. Interview with Harry Robinson (1994) at Movie Music International, via Wikipedia's Harry Robertson article. 6. Mike Hurst biography and discography at mikehurst.com.
---
Mama Cass Elliot - One Way Ticket (1971)
Cass Elliot (b. Ellen Naomi Cohen, 1941-1974) was known as Mama Cass from her membership of top pop-folk group The Mamas & The Papas who had six Billboard Top 5 hits 1966-67 including Monday Monday (1966, #1 USA) and Dedicated To the One I Love (1967, #2). After The Mamas & The Papas broke up in 1968 Mama Cass pursued a succesful solo career with prominent TV appearances as a guest and in her own specials.
Further reading: Mama Cass bio by Greg Prato at All Music.
---
Neil Sedaka - One Way Ticket (To The Blues) (1959)
SIMILAR TITLE BUT NOT THE SAME SONG AS
'ONE WAY TICKET' BY HELEN REDDY.
Single on RCA, B-side of Oh! Carol, Neil Sedaka's second charting record and first Top 10 hit (#9 USA) YouTube.
Also known simply as One Way Ticket (on the UK release).
Later popularised by UK disco group Eruption (as One Way Ticket), single on Atlantic/Hansa (1979, #9 UK) YouTube.

Some other red herrings from the 60s:
• Gary Clarke – One Way Ticket (Ernie Richman)
USA 1962 B-side on RCA Victor
• Casey Jones And The Engineers – One Way Ticket (Davis-Duncan)
USA 1963 Single on Columbia.
• The King Brothers – One Way Ticket (Junkin-King)
UK 1963 Single on Parlophone.
• Mimi And Richard Fariña – One Way Ticket (Richard Fariña)
USA 1965 B-side on Vanguard.
• Playboys Of Edinburg [sic]- One Way Ticket (J.L. Williams)
USA 1966 B-side on Columbia.
• Grand Trunk Western – One Way Ticket (B. Polich)
UK 1969 Single on Speedway.
---
Bev Harrell - One Way Ticket (1969)

SAME TITLE BUT NOT THE SAME SONG AS
'ONE WAY TICKET' BY HELEN REDDY.
See under Bev Harrell – One Way Ticket for song history.