Bev Harrell - You Don't Love Me No More (1967)
Single on HMV by singer from Adelaide, based in Melbourne. Produced by David Mackay,
Double-sided hit in Adelaide and Perth with Come On Over To Our Place.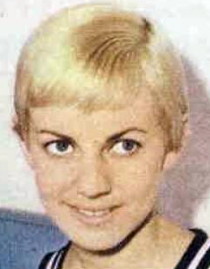 Bev Harrell started singing as a six-year-old on a children's radio talent show in Adelaide. As a teenager she guested with live bands, and joined a new line-up of The Clefs as joint lead singer with Barrie McAskill, with the great Tweed Harris on keyboards. Harrell stayed in Adelaide when the band moved away to Melbourne, but she did eventually go professional and move to Melbourne. By then she was managed by her boyfriend Daryl Sambell who would later manage Johnny Farnham's early career. After moving to Melbourne, she was seen on the current TV pop shows and was signed to EMI Records. As well as achieving a national hit with her first single What Am I Doing Here With You (1967), she also charted with Come On Over To Our Place / You Don't Love Me No More (1967) and One In A Million (1968). She released her first album This Is Bev in 1967. Bev Harrell's career lasted well beyond the 60s, into the 70s and on to the new century. Follow the links below to fill in the full story.
Further reading: 1. Bev Harrell biography at Milesago which I have drawn on heavily above. 2. Bev Harrell: official site at bevharrell.com.au 3. The Clefs history at Barrie & Jan McAskill's website. 4. "Won with First Disc": Bev Harrell profile in Australian Women's Weekly, 9 August 1967, archived facsimile at Trove.nla.gov.au
---
Sandie Shaw - You Don't Love Me No More (1966)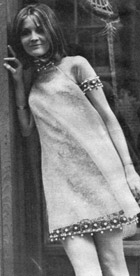 British singer from Dagenham, born Sandra Goodrich, who liked to appear on the telly in bare feet. Her biggest hits were There's Always Something There To Remind Me (1964), Long Live Love (1965) and the Eurovision Song Contest winner Puppet On A String (1967).
---
Barbara George - I Know (You Don't Love Me No More) (1961)
Similar title but not the same song as "You Don't Love Me No More" by Bev Harrell.
Sole hit by New Orleans singer, recorded for the A.F.O. label.
Song also known as I Know (You Don't Want Me No More).
---
Madeline Bell - You Don't Love Me No More (1964)
Single on Columbia label.
American-born singer who was signed to Columbia in the UK while touring with gospel choir the Alex Bradford Singers. In addition to her solo career, she was a much-used backing singer in Britain, and in the late 60s she joined Blue Mink (Melting Pot, Banner Man).
See the official site at www.madelinebell.com.
Written by Charles Blackwell, arranger, producer and composer who worked with legendary British producer Joe Meek and produced, for example, Francoise Hardy and P. J. Proby. See also Allison Durbin – Don't Come Any Closer.
Thanks to Phil Chapman.