Cher - Come To Your Window (1966)
Album track on The Sonny Side Of Cher, March 1966, produced by her husband Sonny Bono.
Cher (b. 1946, Cherilyn Sarkisian) was known in the 60s for her hits with Sonny Bono as Sonny And Cher YouTube. They had their own network TV shows, notably the Emmy-winning Sonny & Cher Comedy Hour (1971-74) YouTube. After they separated Cher followed a long and successful solo career as a singer and Oscar-winning movie star.
Singer, songwriter and guitarist Bob Lind is a notable figure in the folk-rock movement of the mid-60s. He was born in Baltimore (1944) but started playing in bands and writing songs in Denver, Colorado, where he spent his teenage years. Signed to Liberty's World Pacific label, he worked with the major producer and arranger Jack Nitzsche who arranged Lind's only big hit single Elusive Butterfly (1965, charted 1966, #5 USA, #5 UK, #2 Australia). Nitzsche produced and arranged the subsequent album.
Lind has also written stage plays and novels, and has worked in journalism. He has recorded only a few albums, and has spent periods away from the music business, but as All Music's Mark Deming writes, he has enjoyed a sizable cult following based on a rather small body of work and is acknowledged as one of the key artists in the '60s folk-rock boom.
Elusive Butterfly has been recorded by many artists including Aretha Franklin, Carmen McRae, Dolly Parton, and Cher (on the same album as Come To Your Window). In Britain, Val Doonican's cover version co-charted at #5 with Bob Lind's original. Lind's next single Remember The Rain also had some minor chart success (1966, #46 UK, #64 USA).
British singer Adam Faith's last charting single was Cheryl's Going Home (1966, #46 UK), a Bob Lind song that was the A-side on the original Elusive Butterfly single. Cheryl's Going Home was also recorded, for example, by The Hondells, and as a B-side by Noel Harrison (the A-side was another song by Lind).
As well as Elusive Butterfly and Cheryl's Coming Home, other songs from Lind's first World Pacific album Don't Be Concerned (1966) soon appeared on singles by other artists: Mister Zero (Keith Relf, Half a Sixpence), You Should Have Seen It (Marianne Faithful, The Deep Six), Drifter's Sunrise (The Gants), Truly Julie's Blues (The Cascades), and Dale Annie (Sandy Roman).
Lind's website was listing gigs and productions of his plays up to October 2019 (last checked early 2020).
Come To Your Window has not been released by Bob Lind.
Further reading: 1. Cher is a big star so there is no shortage of sources, but one place to start is Bruce Eder's biography of her at All Music. 2. Bob Lind biography by Mark Deming at All Music. Again, plenty of sources around. The Wikipedia article has some good detail. 3. In the novel Women, by Bob Lind associate Charles Bukowski, the character Dinky Summers is based on Lind. See this forum at a Bukowski fan site.
The Hard Times - Come To Your Window (1966)
Single on World Pacific, May 1966, by folk-rock-psychedelic band. Formed in San Diego in 1965, they moved to Los Angeles and were active at nightspots on Sunset Strip, notably as house band at the Whiskey Au Go Go.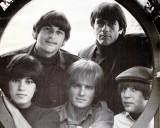 In 1966 they became regulars on the ABC network's Where The Action Is and were signed to Liberty Records subsidiary World Pacific for five singles and an album, Blew Mind (1967). Only their third single charted nationally, a version of Benny Spellman's 1961 record Fortune Teller that peaked in the high 90s on Billboard's Hot 100.
References, further reading: 1. The Hard Times by Richie Unterberger at All Music. 2. Hard Times retrospective at San Diego Reader.