Single on Philips (Australia) by acclaimed Sydney band that eschewed the Merseybeat-Fab Four aesthetic in favour of a wilder Rolling Stones–Pretty Things thing, making them the first true rebels of Australian rock..; the first Australian band which can be labelled "punk" [Howlspace, now offline, but see here].
By the time of Nervous Breakdown – the B-side of Wild About You – there had been so many personnel changes that the band had morphed into a new line-up that included no original members.
The Missing Links split up in April 1966. Doug Ford and Andy James formed Running Jumping Standing Still (see Diddy Wah Diddy). Ford was later in The Masters Apprentices, and James became a successful actor as Andy Anderson, reverting to his real surname. Founding member Ronnie Peel became better known as Rockwell T. James, particularly as a member of John Paul Young's All Stars.
In 1976 The Saints remade Wild About You (written by Andy James) for their landmark first album (I'm) Stranded.
Reference: Ian McFarlane, The Encyclopedia of Australian Rock and Pop.
Further reading online: To appreciate the Missing Links phenomenon in more detail, start with:
1. Missing Links page at Psychedelic Rock'n'roll which substitutes for the defunct website Howlspace's account of the band.
2. Milesago's anecdote-packed Missing Links history by Andrew Ainsworth which covers the various line-ups and lists the subsequent activities of band members.
---
Les Sounders Avec Pat Winther - Je suis un nerveux (Nervous Breakdown) (1965)
On EP 100% Rock by band formed 1963 by French rock'n'roller Pat Winther (born Pierre-Patrick Vrolant, 1942) with his brother Bill.
All French lyrics on the EP (which included two other Eddie Cochran covers) are by Évelyne Verrechia, also known as 60s yé yé singer Evy and as Évelyn Lanton, lead singer of 70s disco band Belle Epoque.
References, further reading: 1. Release details and sleeve shots at encyclopedisque.fr, 2. Pat Winther & The Sounders at GolfDrouot.fr. 3. History of Pat Winther at the website of his country music band Pat Winther & The Bunch. 4: On Évelyne/Evy Verrechia/Lanton see the English Wikipedia article on her brother and musical collaborator Albert.
Merci à Philippe.
---
Merv Benton - Nervous Breakdown (1964)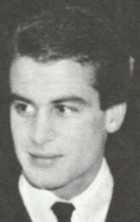 Single on W&G by popular rock'n'roll singer in the heart-throb mould, backed by The Tamlas.
Merv Benton did especially well in his home town of Melbourne, where he had 15 charting records 1964-67, but retired from music after suffering disabling voice problems. Cincinnati Fireball was his most successful single outside of Victoria. See also I Got Burned, Benton's biggest local hit.
Merv Benton emigrated to the United States and has lived for some time in Phoenix AZ.
Further reading: Two comprehensive pages on Merv Benton: 1. Tony Wilkinson, The Story of Merv Benton, A True Australian Rocker, at Rockabilly Hall of Fame. 2. Merv Benton (& The Tamlas) at Milesago.
---
Bobby Fuller - Nervous Breakdown (1962)
Single on El Paso label Eastwood, owned by Bobby Fuller.
Singer-songwriter and guitarist Bobby Fuller (1942-1966) had released some independent recordings on minor labels before his band The Bobby Fuller Four were signed to Mustang in Los Angeles in 1964. Fuller was a great admirer of fellow Texan Buddy Holly, one of his main influences along with such rockers as Eddie Cochran and Elvis Presley.
The Bobby Fuller Four's big hit I Fought the Law (1966, #4) had been recorded by the post-Buddy Holly Crickets in 1959 and was written by Sonny Curtis, an early Buddy Holly associate who joined The Crickets after Holly's death. The Bobby Fuller Four's other charting single in the US was Love's Made A Fool Of You (1966, #26) recorded by Holly in 1959 and written by him with Bob Montgomery.
The B-side of Nervous Breakdown was another Buddy Holly song, Not Fade Away.
References, further reading:
1. Bob Holdship's 1997 history and appreciation of Bobby Fuller at Rockabilly Hall of Fame (with a note added by Fuller's manager).
2. Aaron J. Poehler is a fan, and his appreciation of Fuller's work, The Strange Case of Bobby Fuller, also considers the circumstances of Fuller's death, frequently speculated upon since 1966 [Internet Archive copy].
3. The Bobby Fuller recordings listed at Rockin' Country Style give an idea of Fuller's pre-Mustang releases. That site also has label shots of both sides of the Eastwood single.
4. The Wikipedia article on Bobby Fuller is useful, even if it has been tagged for lacking citations.
---
Eddie Cochran - Nervous Breakdown (1961)
Released November 1961 (UK) on EP Cherished Memories
Released January 1962 (USA) on album Never To Be Forgotten.
Posthumously released track recorded in 1958 by Eddie Cochran (1938-1960), US rockabilly singer and guitarist who progressed to rock'n'roll in the wake of Elvis Presley's success. His best remembered songs, featuring rhythmic guitar and good-humoured lyrics, were Summertime Blues (1958, #8 USA, #6 UK) and C'mon Everybody (1959, #35 USA, #6 UK).
Eddie Cochran had three Top 40 hits in the US, but he was more popular in Britain where he had eleven charting songs including Three Steps To Heaven (#1 UK), a current release in Britain when he died there in a road accident in April 1960.
---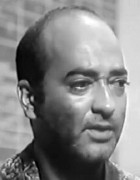 Mario Roccuzzo, writer of Nervous Breakdown, is better known today as an actor, having appeared in dozens of TV series, beginning with The Untouchables in 1960.
RIGHT: Mario Roccuzzo in The Hunted Lady (1977)
The story is told in Don't Forget Me: The Eddie Cochran Story. In 1958 Roccuzzo was working at Wallichs Music City, a famous record store in Los Angeles. There he met store regular Eddie Cochran through the actor Corey Allen. Nervous Breakdown was written over some beers in Allen's apartment. As Roccuzzo recalled it, he fed the words to Cochran as they were written: "I'd hand the lines to him: he'd sing 'em."
---
References:
1. Julie Mundy and Darrel Highham, Don't Forget Me: The Eddie Cochran Story, 2000, as quoted at Spectropop Group.
2. Mario Roccuzzo's biography at IMDb.
3. United Kingdom discography and United States Discography at eddiecochran.info, the Remembering Eddie Cochran website.
---
Lucky Blondo - Attention les yeux, je suis nerveux (1978)
B-side of Phonogram single Ce vieux cow-boy by French pop singer of the 60s (b. Gérard Blondiot, 1943). Also on the album Ce vieux cow-boy, recorded in Nashville.
Merci à Philippe.
---
Wanda Jackson - Nervous Breakdown (2011)
On The Party Ain't Over, 2011 album by rock'n'roll and country singer-guitarist Wanda Jackson (b.1937), produced by Jack White from The White Stripes.
The title of the album recalls her best-known song, the raucous Let's Have A Party (1960) which peaked in the 30s on USA and UK charts. In Australia, where it became a staple of Saturday night "party time" radio shows, it was quite a hit, charting Top 10 in the five major cities, including #2 in Sydney and #3 in Adelaide.
Further reading: 1. Album review by Sarah Ventre for First Listen at NPR. 2. WandaJackson.com.
---
Other later versions of Nervous Breakdown listed by The Originals include those by Ducks Deluxe (1974) and Brian Setzer (1988).
---
In Led Zeppelin's Communication Breakdown (1969) the chord structure and the line "I'm having a nervous breakdown" have reminded some listeners of Nervous Breakdown, but it seems likely that the earlier song provided inspiration for Led Zeppelin rather than a rigid template.
Thanks to Terry Stacey.