Merv Benton - Cincinnati Fireball (1965)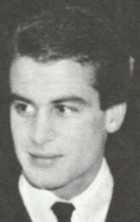 Single on W&G by popular rock'n'roll singer in the heart-throb mould, backed by The Tamlas.
Merv Benton did especially well in his home town of Melbourne, where he had 15 charting records 1964-67, but retired from music after suffering disabling voice problems. Cincinnati Fireball was his most successful single outside of Victoria. See also I Got Burned, Merv Benton's biggest local hit.
Further reading: Tony Wilkinson's account of Merv Benton, reprinted at Black Cat Rockabilly.

Johnny Burnette - Cincinnati Fireball (1960)
Single on Liberty, B-side of Dreamin' (#11 USA). Same songwriting credit as Elvis's Stuck On You. See label shot and other discographical details at Rockin' Country Style. Also listed are earlier unreleased versions from 1960 by The Burnette Brothers and a 1960 stereo release of the single.
Johnny Burnette: Singer from Memphis (1934-1964) who formed the rockabilly Johnny Burnette Rock'n'Roll Trio in the wake of Elvis's success recording with a trio at Sun Records.
Johnny Burnette and his brother Dorsey (1932-1979), also a member of the Trio, later wrote songs at Imperial Records, notably for Ricky Nelson (see Gypsy Woman).
At Liberty Records Johnny recorded a number of solo pop hits in the early 60s with producer 'Snuff' Garrett, including Dreamin, Little Boy Sad and You're Sixteen. At the same time, Dorsey established a solo career ([There Was A] Tall Oak Tree, Big Rock Candy Mountain).
Johnny Burnette's son Rocky had a hit in 1980 with Tired Of Toein' The Line.
Reference: Phil Hardy & Dave Laing, Encyclopedia of Rock Vol. 1: The Age Of Rock'n'Roll, (1975). See also the Burnette House website, covering the musical careers of all the Burnettes.
Thanks to Peter Letheby for correction.