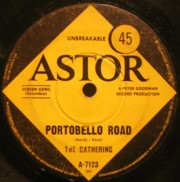 Single on Astor. The label's writer credit to 'Harsh' is an error. Vocals by Col Perkins who also wrote the B-side, Get Ready For Me.
Melbourne band The Gathering, formed in 1968, included members of Glenn & the Outlaws, joined by Hank Wallis from Ronnie Burns's band The Flies. They had three singles on the Melbourne charts: Portobello Road (1968, #38), Lovely Loretta (1969, #22) and Rosetta (1972, #21).
The Gathering's original line-up:
• Col Perkins (lead vocal/guitar; website)
• Cliff Newby (lead guitar/vocal)
• John "Hank" Wallis (drums/vocal)
• Barry Patterson (bass guitar)
There were some personnel changes but Perkins and Wallis remained throughout.
The Gathering had the original single by The Spectrum as a reference, thanks to Perkins's brother who would ship him the latest singles from England. This wasn't a slavish copy of the original's wistful Toytown sound, though: the Aussies made it their own with stronger rhythm and lead vocals.
Hank Wallis and Col Perkins were later in country band Wallis And Matilda, best known for Clancy Of The Overflow (1980, #16 Sydney, #32 Melbourne, #24 Brisbane), from Banjo Patterson's classic bush ballad.
British-born Sydney singer Trevor Gordon, part of UK duo The Marbles, was not – as some have supposed – in The Gathering: I was never part of a Melbourne band, The Gathering (Trevor Gordon, email, 2011).
Reference: Chris Spencer, Zbig Nowara, Paul McHenry (compilers), Who's Who of Australian Rock (2002 and earlier editions).
Further reading: 1. Lead singer and guitarist Col Perkins's website has a career biography that includes the Gathering years, as well as a current gig guide. See also Wallis And Matilda's website.
Thanks to Col Perkins for band history, and to Trevor Gordon and Peter Foldy for clarification. Thanks to Mike Robbins.
---
The Spectrum - Portobello Road (1967)
Single on RCA (UK) arranged and produced by Harry Roberts. Also on the 1970 album The Light Is Dark Enough: see Paul Cross's review at Sweet Floral Albion.
This is UK band The Spectrum, not to be confused with progressive 1970s Australian band Spectrum.
The Spectrum played the theme on Captain Scarlet & the Mysterons, an animated TV series by Gerry Anderson in which the Spectrum Agents were the good guys (see, for example, the fan site Spectrum Headquarters).
The band's biggest chart success was in Spain, and Portobello Road failed to chart in spite of extensive airplay on pirate station Radio London.
---
Contrasting views of The Spectrum's origins: According to RadioLondon.co.uk the band was originally formed for Captain Scarlet, but as Paul Cross at Sweet Floral Albion tells it the band was already formed and was appropriated for the TV series. On the other hand, Bruce Eder at All Music Guide sees The Spectrum as a manufactured group, reportedly put together by British RCA to see if they couldn't come up with a U.K. equivalent of the Monkees.
The final word may go to Scott Swanson in a detailed post to Spectropop Group: while it is true that Anderson signed The Spectrum to record a version of the Captain Scarlet Theme Song, I suspect that the name duplication was mere coincidence — and Anderson only hired the band to avoid a lawsuit! Swanson also points out that The Spectrum pre-dated The Monkees, even though RCA may have signed them "with the Monkees in mind". [Spectropop message #47047, 24 June 2010: archived here]
---
Cat Stevens - Portobello Road (1967)

Same title but not the same song as'Portobello Road' by the Gathering.
On album Matthew & Son, 1967.
Also on a Capitol single by Ellie Janov (USA 1967), produced by Nick Venet.
---
'Bedknobs And Broomsticks' Soundtrack - Portobello Road (1971)

Same title but not the same song as 'Portobello Road' by the Gathering.
From the 1971 Disney film Bedknobs and Broomsticks.
---
The Soul Vendors - Portobello Road [aka Porta Bella RD] (1968)

Same title but not the same song as'Portobello Road' by the Gathering.
B-side on Jamaican label Studio One, written by major reggae-ska producer known as Coxsone Dodd or Sir Coxsone (1932-2004, b. Clement Seymour Dodd). The A-side is You Don't Love Me by Dawn Penn.
Also released on Studio One as Porta Bella RD (1968), B-side to Ken Boothe's When I Fall In Love.