The Flies - Doin' The Mod (1965)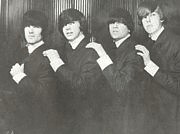 Second single, the first that charted by Melbourne band influenced by British Invasion insects, also notable for the involvement of Ronnie Burns, who later became a solo pop star. Go to Browse Artists: 'B' for some of his songs featured at this site.
Doin' The Mod charted in June-July 1965 and was followed onto the Melbourne charts in September-October by Can't You Feel, an original song by Ronnie Burns and John Thomas of The Flies (#26 Melbourne).

Further reading: Milesago's history of The Flies and Ronnie Burns. For more Aussie insects, see Terry Stacey's account of Sydney's Cicadas at The Blog.
Where Are They Now? Themi Adams (Adamopoulo), the Flies' bass player, is now an Orthodox priest working in Kenya. See the website of Paradise4Kids, an African children's charity of which Fr Themi is a partner.

The Flies has been a surprisingly well-used band name over the years:
The Flies, Melbourne, 1964-65, Doin' The Mod; The Flies, UK, c.1966-68, beat/psychedelic band; The Flies, USA, 1969, alias of gospel artist Larry Norman; The Flies, Sydney, 1984-1987, pop band; The Flies, Greensboro NC, 1978-79, punk band; The Flies, Massachusetts, 1980s, garage band; The Flies, 1990s, Washington State, punk band. See also The Flys, and these Flys… If you have a strong stomach, you could even go back to where it all starts.
Thanks to Terry Stacey for uncovering all these Flies.


Vandyke And The Bambis - Doin' The Mod (1964)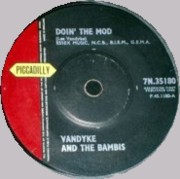 Single on Picadilly. According to AMG, an obscure British band teamed with songwriter Les Vandyke: my hunch (and it is only a hunch) is that this is a studio band.
British songwriter, singer and film composer Les Vandyke (b. Yani Skoradalides, 1931) also used the names John Skoradalides, Johnny Worth and John Worsley. He wrote many well-known songs of the 60s and 70s including significant hits for Adam Faith (What Do You Want, Poor Me) and Eden Kane (Well I Ask You, Forget Me Not). Ex-Shadows Jet Harris & Tony Meehan had a UK hit with his Applejack (1963, #4 UK).
See also Little Pattie's Australian hit Dance Puppet Dance.
Further reading: 1. 45rpm.org.uk's outline of Les Vandyke's career, including a label shot of his early single, as Johnny Worth, on the UK budget label Embassy. 2. Les Vandyke bio at All Music Guide. 3. John Worsley film scores listed at IMDb.
John Worth's son Dave emailed to say the name of The Bambis came from Dave's childhood nickname.
Label shot: thanks to Vicious Sloth Collectables. Thanks also to Terry Stacey.