Single on Columbia, May 1969.
See also The Flying Circus – Hayride
The Flying Circus: Sydney band, formed in 1968, that also worked in Canada from the early 70s (not to be confused, though, with the late-60s Canadian band called The Flying Circus, fronted by Bruce Cockburn)
No connection with Monty Python's Flying Circus (1969): the name appears to be a coincidence.
The Flying Circus is one of the most misunderstood, overlooked and underrated Australian groups of the '64-75 period. They're mainly remembered these days for their two early "bubblegum" hits, which is unfortunate, as Greg Quill, leader of the acclaimed Country Radio, points out: Wrongly labelled a pop band because of their lightweight recordings, they were actually a complex and very progressive live act, the first link in Australia between pop and country rock.
Further reading: 1. Milesago's comprehensive Flying Circus page. 2. Wikipedia entry on Australian band The Flying Circus (distinguished from the Canadian band of the same name).
The Flying Circus covered two songs by Nashville band Saturday Morning Cartoon Show, Hayride and La La, both written by Buzz Cason & Mac Gayden.
Saturday Morning Cartoon Show - La La (1969)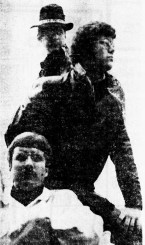 Single on Elf, written and produced by Buzz Cason and Mac Gayden. The label was owned by Cason with Bobby Russell.
I have found almost nothing about Saturday Morning Cartoon Show's history. It was probably from Nashville, possibly from Louisville, Kentucky. I wonder whether it could have originated as a studio project, perhaps with performances by Cason or Gayden or both, though I have no evidence for that.
Local press reported at least three live performances by the band, in late 1968 (a WKLO concert in Louisville, Kentucky) and in early 1969 (a WKDA dance, and an auto show for WMAK, both in Nashville).
As well as La La, Australia's Flying Circus covered Hayride, another Cason-Gayden song recorded by Saturday Morning Cartoon Show on Elf.
The much-recorded Everlasting Love is a Cason-Gayden composition, first released by Robert Knight (1967) on Rising Sons, another label owned by co-writer Cason and Russell. It was remade with some chart success by Melbourne band The Town Criers (1968).
Cason and Gayden wrote Candy Love, and Cason wrote Groupie, both charting records in Australia by The New Dream.
See also my story about Buzz Cason's Adam And Eve (1968), a hit in Australia, at Poparchives: The Blog.
Bobby Russell and I had formed two record companies, Rising Sons and Elf, both releasing the pop and rock product we produced on new uncountry artists… We had hits on both our record labels, all the while producing acts for several major record companies.

Buzz Cason, Living The Rock 'n Roll Dream: The Adventures of Buzz Cason (2004), p.174.
Further reading: 1. BuzzCason.com. 2. Cason's autobiography (quoted above), digital loan at Internet Archive [registration required].