The Delltones - Get A Little Dirt On Your Hands (1962)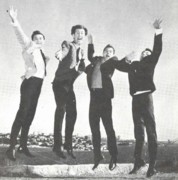 Sydney vocal group The Delltones, featuring the bass of the ironically nicknamed 'Pee Wee' Wilson, were a fixture of the Australian rock'n'roll scene from their formation in 1959. Their official site is at www.delltones.com.
See also The Delltones' Come A Little Bit Closer (1959), Hangin' Five (1963), and Sitting In The Moonlight (1965).
Bill Anderson - Get A Little Dirt On Your Hands (1962)
Single on Decca label.
Country singer and songwriter, known as Whispering Bill Anderson, charted in Australia with Still (1963) and Mama Sang a Song (1962; Walter Brennan also had a charting version here). A parody of Still by Don Bowman was also played on Australian radio.
Further reading: Biography and other content at BillAnderson.com.
Thanks to John Yeager for suggesting this one.