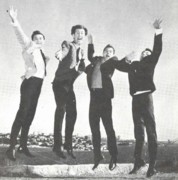 Rock'n'roll vocal group gets with the surf music trend and comes up with a classic of the genre.
The Delltones, featuring the bass of the ironically nicknamed 'Pee Wee' Wilson, were a fixture of the Australian rock'n'roll scene from their formation in 1959. Their official site is at www.delltones.com.
This could be mistaken for a cover of an American surf song, but it's an Aussie original, co-written by Ben Acton, a detective with the police force based at Manly, a Sydney beachside suburb. There is a photo of him in the New South Wales Police Band in 1955 at the Thin Blue Line website.
---
Fred Kirkham was not credited as a writer on the original single of Hangin' Five, and the song has often been attributed solely to Ben Acton. The APRA listing for the song shows both names.
This is apparently NSW District Court Judge Fred Kirkham (1937-2007) who, when he rowed in the Australian eight in the 1956 Olympics, was a probationary constable in the New South Wales Police Force.
In 1996, artist and judge's associate Pierre de Dassel told ABC Radio's Law Report about his exhibition of courtroom cartoons and caricatures:
…I suppose one caricature that really stands out for me is the caricature of Justice Kirkham of the District Court. And he actually, in his youth, wrote the lyrics to the Delltones' hit, Hanging Five on the Malibu [sic], so I've done Justice Kirkham hanging five on the Malibu.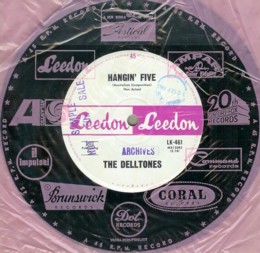 Suggestion and research from Terry Stacey.
Additional research from Dave Overett.
Label shot by John Pear.