The Chantinos - Since I Fell In Love With You (1964)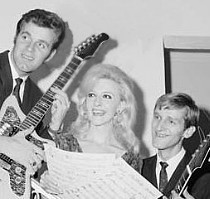 Single on RCA Australia, the first by family pop group from Sydney. Marijke Bakker and her brothers John & Norman were originally from The Netherlands.
See also the B-side Don't Say Nothin' (If You Can't Say Anything Nice), and their second (and final?) single Dominique / Breaking Point (1965).
References: 1. Brief details accompanying 1968 image of The Chantinos at National Archives of Australia. 2. Chantinos signed to RCA, reported in Billboard, 21 Nov 1964 [Google Books]. 3. Chris Spencer et al, Who's Who of Australian Rock (2002 edition), p.67.
Image: Chantinos in 1968, National Archives of Australia. For full size, higher resolution image see here.

Video: To see The Chantinos in action in 1965, watch their
Lullaby of Broadway at You Tube and follow the links to other examples. (Thanks to Dave Overett.)
---
Clairette Clementino - Since I Fell In Love With You (1964)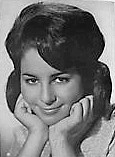 Single on Capitol.
Teenaged Californian singer Clairette Clementino was signed first to independent Hollywood label Encore for three singles 1961-62 (one as simply Clairette). She then recorded for the major label Capitol where she released four singles 1963-64 with the participation of some distinguished personnel, although she never had a hit. A further single as Clairette without a surname was released on Colpix in 1964. She now lives where she grew up, in Marin County, California where she has been President of the county's Education Board and was still a member in 2014 (Clairette C. Wilson, Area 7).
---
English lyrics to this Kaempfert–Schwabach composition are by Milt Gabler (1911-2001), major US producer then at Capitol Records who also worked in Germany on Bert Kaempfert's LPs throughout the 60s and 70s.
Wayne Newton's 1963 hit Danke Schoen was another Kaempfert–Schwabach song with English lyrics by Milt Gabler.
Gabler's long career as a record store and label owner, producer, arranger, and songwriter included production credits for Billy Holiday's Strange Fruit (1939, on his own label Commodore) and Bill Hayley's Rock Around The Clock (1954, at Decca).
---
Produced and arranged by Stu Phillips (b. 1929), perhaps best known as composer or music director for many notable films and TV series, including Battlestar Galactica, The Monkees and Knight Rider.
References, further reading: 1. Ken Friedman's detailed interview with Clairette Clementino at girlgroups.com (2011) is essential reading. 2. Discographies for Clairette Clementino and Clairette at 45Cat.com. 3. Milt Gabler: NY Times obituary, Wikipedia entry and All Music biography. 4. Stu Phillips: Film & TV credits at Internet Movie database; Wikipedia biography.
---
Brenda Lee - Darling, was ist los mit dir (1963)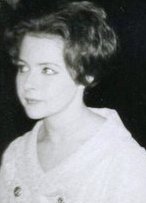 Single on Brunswick label, Germany, April 1963, B-side of In meinen Träumen. By this time Brenda Lee was a well-established US pop star who had already been on the Billboard Top 40 nineteen times since early 1960, including twelve in the Top 10 and three #1s.
Recorded in West Germany in February 1963, produced by the German band leader Bert Kaempfert who co-wrote both sides of the single with lyricist Kurt Schwabach. The song was published in Hamburg in 1963. The English lyrics, as recorded by Clairette Clementino on Capitol, were written by Milt Gabler, then a house producer from Capitol Records in the US who also produced Kaempfert's LPs in Germany.
Darling, was ist los mit dir ("Darling, what is wrong with you") was one of four German songs recorded by Brenda Lee in 1963 sessions with Kaempfert in Germany. In 1961 she had recorded a couple of her songs in German, Italian and French in 1961, and back in Nashville in 1964 she recorded four more songs in German including Ich will immer auf dich warten, released in Germany on Polydor.
Brenda Lee (b. 1944) started out young as a country singer but at 15 she had a hit with Sweet Nothin's (1960, #4 USA), the first of twelve Top 10 pop hits that included the #1s I'm Sorry and I Want To Be Wanted (both 1960). For more see under Born To Be By Your Side at this site.
Reference, further reading: Brenda Lee's site has a chronology that covers the German recordings.
Image: Brenda Lee in 1962, © Peter Denton, (cropped; original via Wikipedia).