Normie Rowe - Born To Be By Your Side (1968)
Single on Sunshine, July 1968, B-side of Break Out. By this time Normie Rowe was serving in the Australian Army having been conscripted in September 1967. (See also: Turn Down Day and Penelope from that period.)
Melbourne singer Normie Rowe became Australia's top teen idol of the late 60s and the star of Ivan Dayman's Sunshine label. He had a string of hits in Australia from 1965, recorded four singles in London, toured Britain and America, and even inspired a tribute song, Norman-Normie. After he was conscripted to serve in Vietnam he never regained his earlier 'King of Pop' status, but he re-established himself as a respected performer, especially on stage, starring in such productions as Les Miserables and Annie.
See also, for example, his hits Que Sera Sera and It Ain't Necessarily So.
Further reading: 1. Normie Rowe biography at Milesago. 2. Official site at NormieRowe.com at Milesago.
Thanks to Terry Stacey for suggestion and version alerts.
Jimmy Dean - Born To Be By Your Side (1968)
Single on RCA.
Jimmy Dean (1928-2010) was a country singer, TV host and actor who crossed over to the pop charts several times, notably with Big Bad John (1961, #1 USA, written with Roy Acuff) and the JFK tribute PT 109 (1962, #8 USA). He hosted his own variety show on ABC 1963-66, acted on TV (Daniel Boone) and in films (Diamonds Are Forever).
In 1969, winding down his music career, he formed the Jimmy Dean Meat Company and became well-known through his appearances in TV ads for the company's line of sausages and related products.
References: 1. Jimmy Dean biography by Steve Huey at All Music. 2. Jimmy Dean obituary at MTV.com. 3. Jimmy Dean filmography at IMDb. 4. Current Jimmy Dean Meat Company at JimmyDean.com.
Brenda Lee - Born To Be By Your Side (1967)
Single on Decca, released on Brunswick in Britain. Brenda Lee (b. 1944) started out young as a country singer but at 15 she had a hit with Sweet Nothin's (1960, #4 USA), the first of twelve Top 10 pop hits that included the #1s I'm Sorry and I Want To Be Wanted (both 1960). After taking a career break from 1967, she made a successful return to country music in the 70s, working out of Nashville.
The References in popular culture section in Wikipedia's Brenda Lee article gives some idea of her stature in pop history:
❝ Chuck Berry wrote a song about Lee on the album St. Louis to Liverpool. She was also immortalized in Golden Earring's 1973 hit Radar Love: Radio's playing some forgotten song/Brenda Lee's 'Coming on Strong'. She was also remembered as a heroine to Burton Cummings on his 1978 album in the song Dream of a Child including the lines When I was a child,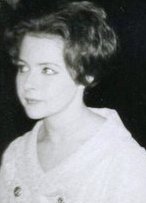 dreamed that Elvis Presley, was standing on the corner, kissing Brenda Lee, and in the closing line, I love Brenda Lee/Brenda Lee loves me/yeah…. Ben Vaughn wrote and released I'm Sorry (But So Is Brenda Lee) (1985) which has been covered by Marshall Crenshaw. Lee is also referenced in Smokey and the Bandit ❞
Image: Brenda Lee in 1962, © Peter Denton, (cropped; original via Wikipedia).
The writer:
Nashville singer-singwriter and actor Jerry Reed (1937-2008, full name Jerry Reid Hubbard) also wrote Brenda Lee's That's All You Gotta Do (1960, #6 USA).
Reed charted under his own name in 1971 with Amos Moses (#8 USA) and When You're Hot You're Hot (#9). He wrote and recorded two songs that became better known through Elvis Presley's versions: Guitar Man (1967, #43 USA) and US Male (1968, #28 USA). Reed's own 1967 version of Guitar Man charted at #53.
As an actor Jerry Reed appeared in a number of films and TV series but is perhaps best known for his role as Cledus in Smokey and the Bandit (1977) and its sequels.
---
References, further reading:
1. Brenda Lee article at Wikipedia.
2. Jerry Reed biography at Nashville Songwriters Foundation.
3. BrendaLee.com.
4. Detailed Jerrry Reed tribute by Walt Trott at JerryReed.nl.
5. Label shot and release details of UK Brunswick single at 45cat.com; other label shots via this Google Image search result.
6. Hardy & Laing, Encyclopedia of Rock, Vol. 1 (1975) pp.190-191.
7. US Copyright Office. "Born To Be By Your Side" has Copyright No. RE0000670176, 1966: search here.
* Writer credit: Most of Jerry Reed's compositions are listed at US Copyright Office under Jerry Reid Hubbard (Reid with an "i"). Depending on the label or the pressing, such variations of the writer's name as Jerry Reed – Hubbard may be seen.
The Chordettes - Born To Be With You (1956)
NOT TO BE CONFUSED WITH "BORN TO BE BY YOUR SIDE" BY NORMIE ROWE.

This has often been recorded since The Chordettes' 1956 original, for example by Sonny James (1968), Dave Edmunds (1973) and Dion (1974): see the list of versions at The Originals.