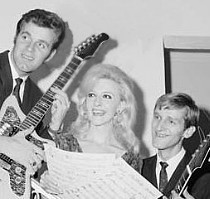 Single on RCA Australia (with orchestra conducted by Milton Saunders) by family pop group from Sydney. Marijke Bakker and her brothers John & Norman were originally from The Netherlands.
This was the second Chantinos single on RCA and – as far as I can see – their last ever. Breaking Point was the B-side: a version of The Singing Nun's 1963 hit Dominique was the A-side.
See also their first single: A-side Since I Fell In Love With You and B-side Don't Say Nothin' (If You Can't Say Anything Nice). Both songs have interesting histories.
Video: To see The Chantinos in action in 1965, watch their
TV performance of Lullaby of Broadway at You Tube.
Image: Chantinos in 1968, National Archives of Australia. For full size, higher resolution image see here.
References: 1. Brief details accompanying 1968 image of The Chantinos at National Archives of Australia. 2. Chantinos signed to RCA, reported in Billboard, 21 Nov 1964. 3. Chris Spencer et al, Who's Who of Australian Rock (2002 edition), p.67.
Thanks to Dave Overett.
Pat Powdrill - Breaking Point (1964)
Single on Reprise, arranged by David Gates, produced by Jimmy Bowen.
---
Breaking Point is by Brill Building songwriter Connie St John, who had studied at The Juilliard School and also worked as an elementary school music teacher (she was at PS 76 in The Bronx at one stage in the early 60s). St John wrote several songs with and for Dee Ervin, better known as Big Dee Irwin.
Big Dee recorded for the Dimension label, a Brill Building outlet that featured Gerry Goffin-Carol King compositions including the hits Chains by The Cookies and The Locomotion by Little Eva. Big Dee and Little Eva released a Christmas single together on Dimension, written by Goffin & King.
Big Dee Irwin's Dimension single Everybody's Got A Dance But Me was written by Ervin & St. John with Gerry Goffin, with the B-side by Ervin and St. John. Another Big Dee Irwin single on Dimension had a Goffin-King song on the A-side (You're My Inspiration) and an Ervin–St John song on the B-side (Skeeter).
Clyde McPhatter released Stop, an Ervin–St John song written with Freddie Scott, on a 1962 Mercury single.
Information about Connie St John is hard to find, apart from her record credits (see for example 45Cat here, here and here). A positive comment about her by a former PS 76 pupil at Discogs.com gave me some clues, and led to a now-defunct cdbaby page where fellow Brill Building songwriter Queen Goody [aka Dotty Daniels/Dotty Goodman/Dorothy Goodman] remembered her admiringly and referred to her as "Dr Connie St John".
---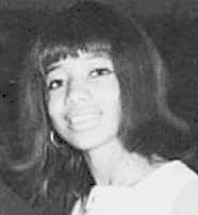 Los Angeles singer Pat Powdrill recorded three solo singles on Reprise and two on independent label Downey before replacing P.P. Arnold in The Ikettes, the Ike & Tina Turner backing group.
Her singles are peppered with distinguished credits:
• Her Reprise singles (1963-64) were all produced by Jimmy Bowen, who had been in Buddy Knox's band The Rhythm Orchids and co-wrote Knox's hit Party Doll. He was hired by Frank Sinatra as a producer at Roulette and later became an innovative country music producer in Nashville.
• I Only Came To Dance With You was written by James Marcus Smith, later known as P.J. Proby, and Jack Nitzsche arranged and conducted on both sides of the single.
• Luckiest Girl In Town, the B-side of Breaking Point, was written by by David Gates, the single's arranger, later famous in his band Bread.
• Powdrill's first single on Downey, Together Forever, was co-written by a yet-to-be famous Barry White.
Further reading: 1. Brian Nevill's detailed history of Pat Powdrill at Spectropop includes an interview and discography. 2. Northern Soul Music has a history of Pat Powdrill too, focusing on her relationship with producer Nick Risi.
Bobby Darin - The Breaking Point (1966)
SIMILAR TITLE BUT NOT THE SAME SONG AS 'BREAKING POINT' BY THE CHANTINOS.
Single on Sunshine. Some issues of Normie Rowe's The Breaking Point credit King and Webster as writers, but that is a different song.

There are numerous songs registered at BMI and ASCAP with the title (The) Breaking Point. [Link. You may need to re-enter search]
Thanks to Jeff Smith for Red Herring alert.