The Chantinos - Don't Say Nothin' (If You Can't Say Anything Nice) (1964)
On RCA single, B-side of Since I Fell In Love With You. This was the the first single by family pop group from Sydney. Marijke Bakker and her brothers John & Norman were originally from The Netherlands.
See also their second (and final?) single Dominique / Breaking Point (1965).
Video: To see The Chantinos in action in 1965, watch their
TV performance of 'Lullaby of Broadway' at You Tube. (Thanks to Dave Overett.)
Image: Chantinos in 1968, National Archives of Australia. For full size, higher resolution image see here.
References: 1. Brief details accompanying 1968 image of The Chantinos at National Archives of Australia. 2. Chantinos signed to RCA, reported in Billboard, 21 Nov 1964 [Facsimile at Google Books]. 3. Chris Spencer et al, Who's Who of Australian Rock (2002 edition), p.67.
Sherrill Roecker - Don't Say Nothin' (If You Can't Say Anything Nice) (1964)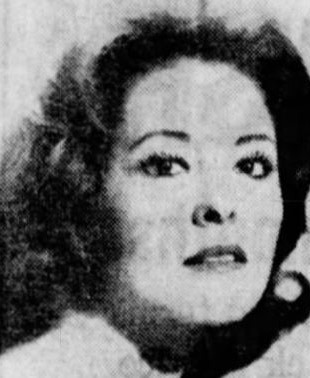 Single on Swan [label shot].
---
Sherrill Roecker (c.1942-2004) was from Merchantville, New Jersey, just over the river from Philadelphia where Swan Records was based.
Her father was Eddie Roecker (c.1910-1975), a light classical singer who performed locally and on tour. He appeared on Broadway and on radio, and he had a TV show in the early 50s, Eddie Roecker Sings, on Philadelphia's WFIL, Channel 6. He released at least one record, on Robin (Billboard 17 Feb 1951).
Sherrill later married lawyer Allan Weiss and raised a family in Mill Valley in the San Francisco Bay Area.
She cut at least two singles that I can find: Make Him Mine / Love Me on Argo (1963) and this one, Don't Say Nothin' (If You Can't Say Anything Nice) / It's All Over (1964).
This artist biography is my work, based on my original research. If you use it, please credit me or my website. ©Lyn Nuttall 2017
---
The Philadelphia Inquirer, September 29, 1963
In Father's Footsteps
MERCHANTVILLE GIRL MAKES RECORD DEBUT
A Merchantville High School graduate's singing career will be launched Monday with the release of her first recording, hopefully entitled "Love Me." ¶ Pretty 22-year-old Sherrill Roecker is determined to follow in the footsteps of her father, Eddie Roecker, an actor and frequent master-of-ceremonies for Merchantville functions. ¶ Sherrill has no illusions of an easy path to fame. ¶ "I travelled all over the country with my father for 13 years when he was on the road," she said. "I know how tough it is."
---
Both sides of the single are co-written by Philadelphian pop songwriter and producer Joseph Ricci (1938-2008) who in the late 60s moved to Nashville to work in country music. He was better known as Ricci Mareno, under which name he wrote songs recorded by some major country artists, often in collaboration with Jerry Gillespie or Charlie Black. He wrote or co-wrote a number of songs for Tommy Overstreet including – with Gillespie – Gwen (Congratulations), covered in Australia by Johnny Chester.
Ricci's co-writer on the B-side, It's all Over, is Dante Storace who recorded as Dante*, for example on How Much I Care (1960). another Ricci – Dorace composition (with Jimmy Testa), arranged & conducted by Ricci on Mercury.
*This Dante is not Donald 'Dante' Drowty of Dante & The Evergreens ('Alley Oop'), as some may suppose. See the posts by Davie Gordon at Spectropop and 45cat.
Further reading: Joseph R. Ricci's obituary at Find A Grave gives a good overview of his working life as Ricci Mareno. He was prolific: he has 22 pages of credits at Discogs.com.
References (Sherrill Roecker): 1. Various news stories and family notices 1963-1975 from The Philadelphia Inquirer, The Philadelphia Daily News, The Daily Independent Journal (San Rafael CA), The Reading Eagle (Berks County PA), and The Courier-Post (Camden NJ). Exact citations available on request. 2. Allan Weiss memorial page at Prabook.com.
References (Eddie Roecker): 1. "Sunday TV Programs", Wilmington Sunday Star, Sept 6 1953: 7:30 pm. Ch.6, EDDIE ROECKER SINGS – Music show starring Eddie Roecker. 2. Edward Roecker at Internet Broadway Database. 3. Eddie Roecker in Merchantville by Maureen A. McLoone (2001) [Google Books].