Single on Philips (NZ) by popular Auckland band that grew out of The Mergers, formed in high school in 1963. Their styles moved from the Shadows through the Stones to prog rock, before breaking up in 1975 with Kevin Borich the only remaining foundation member. From the late 60s they worked mainly in Australia, where their biggest hit was Gonna See My Baby Tonight.
Hey Baby was the first local single to reach #1 after the New Zealand pop charts began in 1966.
See also The La De De Das' How Is The Air Up There?
Further reading: 1. The La De Das page at Milesago covers all the personnel and stylistic changes. 2. Bruce Sergent's La De Das history at his NZ music site.
Suggestion from Terry Stacey.
---
Richie Wright & The Vikings - Hey Baby (1965)
Single on HMV label, double-sided hit with Did You See Maria.
Brisbane band whose leader went on to form The Richard Wright Group in Sydney, later re-formed as The Wright Group after his departure.
More details at Richard Wright Group – No No No No.
---
Bruce Channel - Hey Baby (1961)
Single on Fort Worth, Texas, label Le Cam, produced by label owner Major Bill Smith and musical director Marvin Montgomery who is on the piano. Released nationally on Smash, a subsidiary of Mercury. Le Cam would have another national hit with Hey Paula by Jill & Ray (renamed Paul & Paula on Philips), released at the end of 1962.
Texan singer-songwriter Bruce Channel was born in Jacksonville TX (1940, as Bruce McMeans) but grew up in Grapevine, a small city in the area now known as the Dallas–Fort Worth metroplex. Hey Baby was his only US hit but he also charted in Britain with Keep On (1968, #12 UK, YouTube). He eventually quit touring and had a successful career as a songwriter in Nashville.
The harmonica on Hey Baby is by another Texan, Delbert McClinton, Lubbock-born but Fort Worth raised. McClinton gave John Lennon some harmonica tips during a tour of Britain in mid-1962, before Beatlemania. Legend has it that this influenced Lennon's harmonica style, especially as heard on The Beatles' first hit single, Love Me Do (1962). The story has grown until it has McClinton teaching Lennon harmonica, but McClinton himself has graciously toned down the story, and the truth is more complicated anyway: see this discussion at Wikipedia.
Margaret Cobb, the co-writer on Hey Baby, was from Irving, Texas, about 15 miles from Bruce Channel in Grapevine. She is usually mentioned in passing as a friend of Bruce Channel.
Channel was introduced to Mrs Cobb by her brother because she "knew how to write songs" and the young musician wanted to be a songwriter. The pair ended up writing many Channel-Cobb songs, of which Hey Baby was one of several that would later be recorded by Channel.
Cobb, a singer herself, introduced Channel to country banjo star Marvin "Smokey" Montgomery who was also based in the Fort Worth-Dallas area. This was a fruitful contact which led to Channel's first record in 1959 (produced by Montgomery on Fort Worth label Teen Ager) and to the recording two years later of Hey Baby, with Montgomery co-producing and playing piano.
Margaret Cobb, with Marvin Montgomery, became Channel's joint manager, and she organised his fan club. She was also a music publisher, running Marett Music in Irving with Montgomery. Marett Music was associated with Trojan Records, a local label formed in 1963 by Irving singer Don Martin.
Bruce Channel has estimated that Margaret Cobb was 10-15 years his senior so… born c.1925-1930?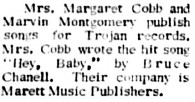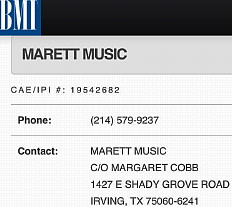 News clipping (above): 'Daily News Texan', Irving TX, 29 September 1963.
References, further reading: 1. Tom Simon's Bruce Channel page, Richie Unterberger's Bruce Channel biography at All Music, and Bruce Channel at BlackCatRockabilly. 2. Interview with Bruce Channel at ClassicBands.com (NB The reference to "Margaret Montgomery" as Channel's joint manager is clearly a misprint for "Marvin Montgomery"). 3. Diana Finlay Hendricks, Delbert McClinton: One of the Fortunate Few, pp 53-54 [Google Books]. 4. Marvin "Smokey" Montgomery obituary, 'Daily Telegraph', 8 June 2001. 5. Marvin Montgomery tribute at Texas State Historical Society. 6. Contemporary news stories from Irving TX: email me for details. 7. "Delbert McClinton explains the myth and legends, including John Lennon's harmonica lesson", The Star-Telegram Fort Worth Dallas, September 3, 2015. 7. Discography at Bruce Channel Fan Site. See also this discography which lists Bruce Channel songs recorded by others.
---
Jose Feliciano - Hey Baby (1968)
Single on RCA label, also on 1968 RCA album Souled.
New York guitarist-singer and occasional songwriter of Puerto Rican heritage, popular from the late 60s for his Latin-style rearrangements of such songs as The Doors' Light My Fire (1968, his biggest hit) and High Heel Sneakers (1968). He is still active, touring frequently and recording. The official site is at www.josefeliciano.com.
---
Dj Otzi - Hey Baby (Uhh Ahh) (2002)
Austrian DJ Gerry Friedle, the bleached blond from Tyrol (who) became a sensation in late 2001 by turning classic party songs into dance tracks (David Peter Wesolowski, All Music).
The song became a football anthem and DJ Otzi released a World Cup Remix.
---
Ted Nugent - Hey Baby (1976)

SAME TITLE BUT NOT THE SAME SONG AS
'HEY BABY' BY THE LA DE DAS.
From his debut album on the Epic label, Ted Nugent.
Heavy metal guitarist, formerly of The Amboy Dukes (USA). Song written by Derek St Holmes, rhythm guitarist and singer on Ted Nugent's early albums.
---
J.j. Cale - Hey Baby (1976)

SAME TITLE BUT NOT THE SAME SONG AS
'HEY BABY' BY THE LA DE DAS.
From the 1976 album Troubador.
Laid-back singer-songwriter-guitarist who wrote After Midnight and Cocaine, both popularised by Eric Clapton. Full name Jean Jacques Cale (not to be confused with John Cale of Velvet Underground.) (All Music Guide)
---
No Doubt Feat. Bounty Killer - Hey Baby (2001)

SAME TITLE BUT NOT THE SAME SONG AS
'HEY BABY' BY THE LA DE DAS.
New Wave/ska band influenced by British band Madness (All Music Guide).
Deejay Bounty Hunter is co-writer Rodney Price.