Charted in February 1969, single on Impact, the last for Larry's Rebels.
Popular band, from Ponsonby in Auckland, often in the New Zealand Top 10 in the late 60s. Vocalist Larry Morris later went solo and had six singles on the NZ charts 1969-1983 including The Hunt (1969, #5 NZ) and The Game (1970, #8 NZ).
See also Larry & The Rebels' Mo'reen, Painter Man, It's Not True, Do What You Gotta Do and I Feel Good; and The Rebels' My Son John
Further reading: 1. The Larry's Rebels page at Bruce Sergent's New Zealand music website. 2. Larry Morris interview with Murray Cammick at NZ music website Audio Culture (January 2016). 3. Larry's Rebels profile at Audio Culture.
Thanks to Larry for correction.
---
Paul Revere & The Raiders - Mo'reen (1967)
On Columbia album Revolution.
Also released as a single in some countries, including The Netherlands and Britain. For Spain the single was recorded in Spanish YouTube.
The composers are Raiders singer Mark Lindsay and producer Terry Melcher.
The Raiders, from Portland OR, first charted in 1961 with an instrumental, Like, Long Hair and had their last big hit in 1971, a #1, Indian Reservation (The Lament of the Cherokee Reservation Indian), written by John D. Loudermilk. They were known for their 18th century costumes (worn in keeping with their historical name) and for their weekly appearances on the TV pop show Where The Action Is.
There was a Paul Revere, on keyboards, the foundation member, but the lead singer was Mark Lindsay, who had a career of his own, charting in 1970 with Arizona and Silver Bird.
By the time of Indian Reservation the band had split, leaving Lindsay and Revere with new personnel as simply The Raiders.
See also: Kicks.
Further reading: 1. Bruce Eder's Raiders history at All Music Guide. 2. Terry Melcher entry at Wikipedia.
---
---
Danny & Jerry - Mo'reen (1968)
Single on Ronn, a subsidiary of Stan Lewis's Shreveport LA label Jewel (not the Cincinnati label Jewel).
Further reading: 1. Jewel and Ronn background at Both Sides Now. 2. Ronn singles discography at Global Dog.
---
---
John Kincade - Mo'reen (1974)

Same title but not the same song as
'Mo'reen' by Larry's Rebels .
Single on Penny Farthing
John Kincade was the name adopted by John Knowles after he was recruited to front a touring version of songwriter John Carter's studio band Kincade (Dreams Are Ten a Penny, 1973, a hit in parts of Europe and Australia).
Further reading: 1. Post (including label shot) on this Mo'reen by Robin Wills at Purepop. 2. For the full complicated story of Kincade, see Alex Gitlin's Kincade page and the Wikipedia entry.
---
The Bay City Union - Mo'reen (1968)
Single on Festival by blues band fronted by Matt Taylor, formed in Brisbane 1966, based in Melbourne from early 1967. The original lead singer (at left in photo) was Paul Johnson, aka A.P. Johnson, who recruited Taylor in the early days of the band but left mid-1966.
Bay City Union members would include Phil Manning, who was later with Matt Taylor in the classic line-up of the great Australian blues band Chain. Another well-known Bay City Union alumnus is Glenn Wheatley, later of the Masters Apprentices and manager of Johnny Farnham.
---
See also the B-side, Mary Mary, a Mike Nesmith composition also recorded by The Butterfield Blues Band, The Monkees, and Run-DMC.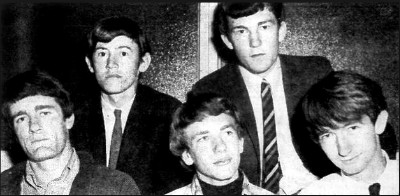 L to R, TOP: Trevor Bagnell, Matt Taylor;
FRONT: Paul Johnson, James Brelsford, Peter Miles
(Early line-up, March 1966)
Andrew Ainsworth at Brisbane Scene helpfully matches four members with their Brisbane suburbs: see here.
References: 1. Ian McFarlane, Encyclopedia of Australian Rock and Pop. 2. Chris Spencer et al, Who's Who in Australian Rock. 3. Andrew Ainsworth, Bay City Union notes at Brisbane Scene.
Further reading: 1. Chain history at Milesago. 2. Matt Taylor meets Paul Johnson and joins Bay City Union: story by Amanda Dweck at tagg.com.au 4. Phil Manning.com.au.
*Melbourne chart position as calculated by Tom Guest in his Melbourne chart book Thirty Years of Hits. Brisbane chart position from Gavin Ryan's Brisbane Chart Book.
Thanks to Terry Stacey for version alert and background.
Image and further background from Louise Roy, thanks very much.
---
Kings - Mo'reen (1968)
Single on Montana, B-side of Father's Name Is Dad, by band from the Swedish town of Hofors. The A-side is a version of a song by a British band, Fire.
Further reading: There is nothing much to be found about Kings. This page at Popsike says they were originally from the UK but the surnames in the line-up look fairly Swedish.
A line-up is posted by Rockslusk at 45cat.com who notes that this was the band's only single:
Rolf Carlén – Vocals
Tommy Hedlund – Guitar
Kent Söderholm – Guitar
Björn Eklund – Bass
Lars Göran Karlsson – Drums
---