Single on CBS, produced by Sven Libaek, backing by The Atlantics.
English-born singer Kelly Green, real name Elaine Sherratt (b.1947), migrated to Australia in 1956. The family settled in Perth, Western Australia where her parents and two of her sisters all performed music.
Aged 15, she flew to Sydney alone to become a regular on national TV pop show Australian Bandstand. A talent scout in Perth had suggested she change her name to Kelly Green and submit an audition tape.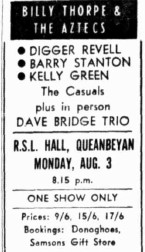 In Sydney 1962-1965, she was signed to CBS for three singles, produced by Sven Libaek. She toured with other Bandstand regulars, including singer-guitarist Barry Stanton whom she was married to until 1965 when she returned to Perth to continue her career and raise two children. See Barry Stanton – Beggin' On My Knees.
References: 1. Dr Cecilia Netolicky's excellent Kelly Green: our Rock'n'Roll Cinderella, sourced from a 2009 interview with Kelly Green. [Archived by NLA from a defunct site]. 2. Wikipedia's Kelly Green (musician) also cites Netolicky, but has extra details including later career highlights.
Thanks to Kim Challands, Michael Hunter, Jordie Kilby & Andrew Ainsworth via Milesago Facebook Group. Clipping from Canberra Times 3 Aug 64 via Trove.
Grazina - So What (1962)
Single on His Master's Voice (UK 1962), also on Capitol (USA 1963) by Grazina Frame, singer and actor born in Lancashire (1941), real name Lydia Anna Grazina Obrycki.

Her varied film and TV work included The Alphabet Murders with Tony Randall and Anita Ekberg (1965), and several appearances on The Morecambe & Wise Show and other popular British series. She provided singing voices for the leading female roles in Cliff Richard's The Young Ones (1961, aka Wonderful To Be Young) and Summer Holiday (1963). Her appearances on the musical stage included a starring role in Lionel Bart's Blitz (1962) in London's West End.
Grazina Frame was married to songwriter Mitch Murray [IMAGE]. The actors Gina Murray and Mazz Murray are their daughters.
*Grazina Frame's songwriting credit is printed as Frane on the UK and USA singles, and on the Australian version by Kelly Green.
UK single: Accompaniment directed by Charles Blackwell
US single: with Charles Blackwell's Combo
Charles Blackwell (b.1940) is a prolific British arranger, producer and composer. He was an arranger for legendary British producer Joe Meek and went on to produce or arrange numerous hits for major artists (one of the biggest was Engelbert Release Me which he arranged). See also two of his compositions covered in Australia, You Don't Love Me No More (Bev Harrell) and Surrounded By A Ray Of Sunshine (Robbie Snowden).
Sources: follow links in text.