Judy Stone - You're Driving Me Mad (1961)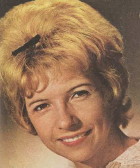 Single on Festival. YouTube This was the first of many singles by popular Australian singer, regular on the long-running TV pop show Bandstand. See also the B-side, Danger! Heartbreak Ahead.
Judy Stone was often on the charts in Australia from the early 60s to the mid-70s. Most of her singles were versions of current or recent releases from America or Britain (with a couple of exceptions from Sweden and Italy). Her sweet voice and pleasant personality boosted the appeal of the local product, and occasionally she would co-chart with the original version.
Not to be confused with (I Say) You're Driving Me Crazy by Del Juliana, another Australian release from the same year, or You're Driving Me Insane by The Missing Links (1966).
Further reading: Wikipedia article on Judy Stone.
Jo Ann Campbell - You're Driving Me Mad (1958)
Single on Gone #5021. Song copyrighted in 1958; John Howard was a pseudonym of Lee Pincus (US Copyright Office).
Co-writers Dorian (aka Ulysses) Burton & Eugene Randolph wrote A Tear Fell by Teresa Brewer (1956, #5 USA).
Burton co-wrote Still by Lavern Baker (1956) and The Fontane Sisters (1956); and Till I Can't Take It Any More by Ben E. King (1969), Ray Charles (1970) and others.
Pincus/Howard wrote, for example, What You've Done To Me (Paul Anka, Alma Cogan and others) and Two Innocent Hearts (Alma Cogan).
Jo Ann Campbell was a former drum majorette from Jacksonville FA whose gloriously silly Kookie Little Paradise was a hit in Australia (#5 Sydney, #7 Melbourne, #7 Brisbane #5 Adelaide). In the US she was better known for I'm The Girl From Wolverton Mountain, covered in Australia by Dorothy Baker: see under Wolverton Mountain. PopArchives: The Blog has more on her Kookie Little Paradise