Judy Stone - Danger! Heartbreak Ahead (1961)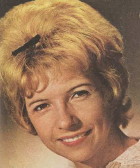 Single on Festival YouTube, B-side of You're Driving Me Mad, the first of many singles by this popular Australian singer, a regular on the long-running TV pop show Bandstand.
Judy Stone was often on the charts in Australia from the early 60s to to the mid-70s. Most of her singles were versions of current or recent releases from America or Britain (with a couple of exceptions from Sweden and Italy). Her sweet voice and pleasant personality boosted the appeal of the local product, and occasionally she would co-chart with the original version.
Further reading: Wikipedia article on Judy Stone.
---
Jaye P. Morgan - Danger! Heartbreak Ahead (1955)
Single on RCA Victor by versatile singer, actor and TV personality (b.1931), real first name Mary but apparently nicknamed Jaye P. after banker J.P. Morgan. Her Top 40 hits included That's All I Want From You (1954, #3 USA) and The Longest Walk (1955, #6).
In the 50s Jaye P. Morgan often appeared on US television variety shows including her own Jaye P. Morgan Show; in the 60s she guested in TV sitcoms and dramas; and in the 70s she was an unforgettable panelist on The Gong Show.
Danger! Heartbreak Ahead was released in either January (SecondHandSongs) or February 1955 (45cat).
The writers:
Carl Stutz was a disc jockey on WRVA in Richmond, Virginia. Carl Barefoot, also at WRVA, was a continuity and script writer, not a disc jockey as usually supposed. Composer Stutz and lyricist Barefoot collaborated on a number of songs released around 1955-58 (see 45cat lists here and here). They wrote Will You, Willyum, the first single on RCA by local rockabilly and early rock'n'roll singer Janis Martin.
Stutz, with Richmond newspaper critic Edith Lindeman, wrote Little Things Mean A Lot, recorded by many but a minor hit for Joni James (1960 #35 USA). Perry Como's I Know (1959 #47 USA #13 UK) was another Stutz–Lindeman song.

References, further reading: 1. Jaye P. Morgan: official site. 2. "Carl Stutz, Radio Announcer, 80": New York Times obituary, 1996. 3. The Robesonian, Lumberton NC, 17 Aug 1955, p.10: Carl Barefoot worked as continuity and script writer in radio and TV. See also earlier work in continuity department and as copy director at WXGI Richmond VA, noted in issues of Broadcasting magazine from 1950 on 26 June 1950 and 26 May 1951 [facsimiles at American Radio History].
---
Joan Regan - Danger, Heartbreak Ahead (1955)
Single on London in the USA February 1955, and on Decca in the UK in April 1955.
Joan Regan (1928-2013) was British, although she worked and lived in the US at various times. The American single precedes the British by a couple of months, but the orchestra is led by Johnny Douglas, the notable British light music conductor and film and TV composer. It could have been a British recording, released first in the US.
---
---
Fifi Barton - Danger Heartbreak Ahead (1960)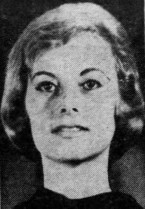 Singer of jazz, opera, pop, blues and musical comedy Fifi Barton (1931-2013) completed high school in Fort Lauderdale, Florida where her family had moved in the post-war 40s. At sixteen, she was Fort Lauderdale's 1947 Radio Queen after eight finalists were judged on "talent, beauty, personality and showmanship".
From 1949 she began studying on a scholarship at New York's Juilliard School of performing arts. After returning to Fort Lauderdale she worked as a singer and raised a family. Her first husband Ott Cefkin was later a well-known crime reporter and Fort Lauderdale police spokesman, who died in 2011.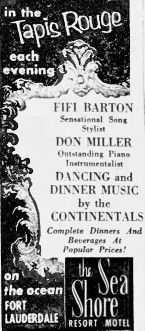 Her father was Alexander "Sasha" Bartnovsky, a pianist, conductor and composer. Sasha and his wife Antoinette were immigrants of Russian background who settled in Fort Lauderdale when Sasha bought in to a nightclub there.
Fifi Barton's many appearances around Fort Lauderdale in the 1950s and 60s included singing with pianist Don Miller, a regular partner, or with ensembles such as The Fifi Barton Trio, Fifi Barton & Friends or The Tunesmiths.
On record Fifi Barton's name is associated with One Is The Loneliest Number, her 1960 jazz album on Ace, and the song of the same title. Her first husband Ott Cefkin wrote one track on the album, but Fifi was also a songwriter, for example on two sides of a 1962 single on NY label Duo.
She also sang lead on some tracks of a 1960 album called Rain, which came out on 20th Century Fox a few months before her own album.

Also on the album were The Dew Drops and the experienced band singer Stuart Foster.
In the late 1960s Fifi opened the Studio of Performing Arts at Times Square, Fort Lauderdale where she was director and voice teacher. A concert at Times Square in January 1968 raised funds for the school when Fifi was unable to work after a traffic accident.
As Fia Scheyer, after her second marriage to Rev David Scheyer, around 1968, she worked for many years for the Unitarian Universalist denomination and later became a published author. She died in Franklin, North Carolina in 2013 at the age of 82.
This biography of Fifi Barton is based on my original research. If you use it, please credit me or my website. You can email me for a list of sources. ©Lyn Nuttall 2019
---
Patty Kay - Danger – Heartbreak Ahead (1955)
B-side on Prom, with The Prom Orchestra. The A-side is Halley Sisters – Rock Love, a cover of another 1955 hit, by The Fontaine Sisters.
Prom and its associated label Promenade were Newark, New Jersey, budget soundalike labels, turning out inexpensive cover versions sold in variety stores. Patty Kay's name appears on other Prom and Promenade releases, although the artists' names on these budget labels were often aliases. See Brian McFadden's notes on Promenade EP at 45cat.
See also
Danger Heartbreak Ahead
by
Eileen Scott
(1956)
on Gateway Top Tune
, a Cincinnati budget label, again with an A-side by a different artist.
Further reading: My blogposts on the budget soundalike labels.
---
Ralph Flanagan And His Orchestra - Danger! Heartbreak Ahead (1955)
On RCA EP Top Pops For Dancing by bandleader, composer and arranger from Larain, Ohio who formed his own big band in the late 1940s.
Further reading: 1. Ralph Flanagan at BigbandLibrary.com. 2. Liner notes from German issue at 45cat.
---
Mac Wiseman - Danger! Heartbreak Ahead (1955)
On Dot 78 rpm disc and 45 rpm single March 1955 by revered and influential bluegrass singer-guitarist (1925-2019), the longest surviving original member of The Foggy Mountain Boys.
Both sides of the record are cover versions of current hits in the first quarter of 1955.The A-side is The Ballad Of Davy Crockett, a #1 Billboard hit for Bill Hayes.
---
The Marvelettes - Danger Heartbreak Ahead (1965)

NOT THE SAME SONG AS
'DANGER! HEARTBREAK AHEAD' BY JUDY STONE.
Also recorded, for example, by The Loading Zone (1968), and by Kim Weston (1969).
---
The Gaylords - Danger – Heartbreak Ahead (1955)
Mercury release by US vocal trio, with George Annis & His Orchestra. Formed in Detroit, The Gaylords had a number of successful releases in the 50s including Tell Me You're Mine (1952), From the Vine Came the Grape (1954), and The Little Shoemaker (1954).
This was on a Mercury Tops In Pops EP in the US, and on a 78 rpm disc in New Zealand (one of several 78s in NZ for them).