Judy Stone - I'll Step Down (1962)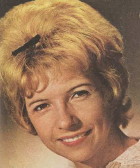 Single on Festival
Popular Australian singer Judy Stone (b.1942) was a self-taught guitarist from Sydney who toured with country star Reg Lindsay as a teenager but gave up the guitar to focus on singing on the advice of talent agent Kevin Jacobsen. She became a regular on the long-running TV pop show Bandstand and was often on the charts in Australia from the early 60s to the mid-70s. Jacobsen's brother, rock'n'roll star Col Joye, became a long-time associate on TV and on tour, and the album Col And Judy With Orchestra was released in 1962.
♫ Listen at YouTube
See also, for example, her hits 4,003,221 Tears From Now (1964) and Born A Woman (1966)
Recommended reading: The Wikipedia article on Judy Stone has all the essential details and cites many useful sources including contemporary press items.
---
Billy Deaton - I'll Step Down (1961)

Same title but not the same song as 'I'll Step Down' by Judy Stone.
B-side on TNT, San Antonio, Texas, June 1961. The composer is blues guitarist Jack Newman who recorded briefly in Chicago in the late 1930s.
Country singer Billy Deaton (1935-2009) later went into business with his Billy Deaton Talent Agency, acting for many prominent country artists.
Sources, further reading: 1. Billy Deaton biography by Craig Harris at All Music Guide. 2. "'Deacon of Music Row' dies at 74", The Tennessean, 3 November 2009.
---
Bonnie Guitar - I'll Step Down (1961)
Single on RCA October 1961.
♫ Listen at YouTube
Bonnie Guitar (1923-2019): country singer, songwriter and session guitarist from Seattle (b. Bonnie Buckingham) who co-founded the Dolphin (later Dolton) label and signed The Fleetwoods and The Ventures. Her own recording career included the pop hit Dark Moon (1957, #6 USA).

References: 1. Tom Simon's biography of Bonnie Guitar. 2. Wikipedia entry for Bonnie Guitar.
Thanks to Terry Stacey for suggestion and initial research. Thanks also to John Baart.

---
Garry Mills - I'll Step Down (1961)
Single on Decca, also on London in the USA.
♫ Listen at YouTube
You'll see his name misspelt as Gary Mills, but this is British singer Garry Mills, whose Look For A Star (1960), written by Tony Hatch as 'Mark Anthony', was a hit in the US (where, to add to the confusion, it was covered by Buzz Cason using the name Garry Miles).
I'll Step Down was released in May 1961, the same month as the version by Lee Diamond & The Cherokees. Given the higher profile of Garry Mills, this may have the edge as the original, but I'm keeping that question mark for now. Entered the UK charts in June.
---
Sid Tepper and Roy C. Bennett were prolific US songwriters whose partnership lasted from 1945 until 1970. They wrote many songs for Elvis Presley films, and British pop star Cliff Richard had hits with their Travelin' Light (1959, #1 UK), When the Girl in Your Arms Is the Girl in Your Heart (1961 #2 UK), and The Young Ones (1962, #1 UK). The last two songs were also big hits in Australia.
I haven't counted them, but sources say they had 45 songs in Elvis films, and 15 on Cliff's records, which is probably right (see here and here).
Elvis sang the Tepper-Bennett song Angel in Follow That Dream (1962), and Cliff's version (1965) was a hit in Australia (#6 Melbourne, #9 Sydney, #4 Brisbane, #8 Adelaide, #3 Perth). Judy Stone charted in Australia with her version of Tepper & Bennett's I'll Step Down.
Some other well-known Tepper-Bennett compositions (Billboard chart peaks):
• The Naughty Lady of Shady Lane (The Ames Brothers 1955, #3, Archie Bleyer 1955, #17)
• Kewpie Doll (Perry Como 1958, #6)
• When the Boy in Your Arms Is the Boy in Your Heart (Connie Francis 1961, #10)
• Red Roses for a Blue Lady (Vic Dana 1965, #10, Bert Kaempfert 1965, #11, Wayne Newton 1965, #23).
Further reading: 1. The Tepper & Bennett website includes a list of songs and other resources. 2. Sid Tepper obituary from The Guardian.
---
On Look For A Star, 45Cat has a discussion of the Garry Mills-Garry Miles confusion, with a contribution from Garry Mills himself. Label shots of the UK release of the American Look For A Star by Garry Miles shows that some B-side labels were misprinted as Garry Mills, just to add to the confusion.
---
Lee Diamond & The Cherokees - I'll Step Down (1961)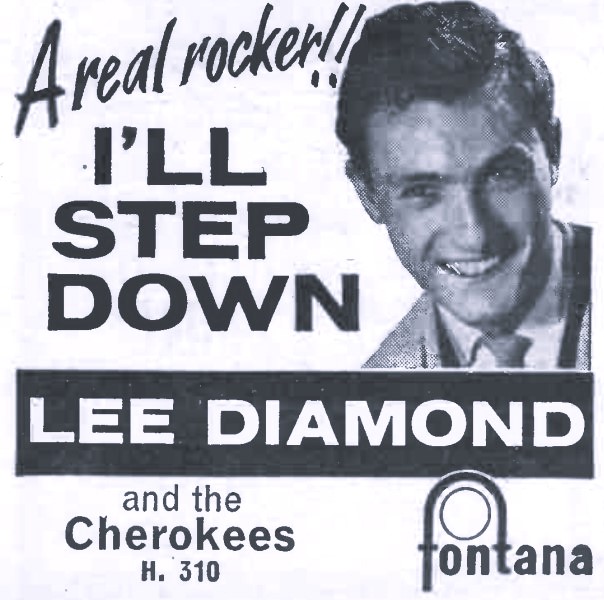 This single on Fontana was released in May 1961, the same month as the charting version by Garry Mills. It was recorded in April 1961 "on the very day Russian cosmonaut Yuri Gagarin was blasted into space" (Ray Poole).
The Cherokees were a British band from the Home Counties, occasionally anthologised on CD. Most of The Cherokees had been in an earlier band, The Offbeats, who backed Ricky Wayne on record, produced by the great British producer Joe Meek
Sources, further reading: 1. At the California Ballroom website former Cherokee Ron Bowdery recalls the recording career of the Offbeats, and explains the genesis of the The Cherokees. 2. Ron also supplied information for Ray Poole's notes on The Cherokees (archived here). 3. "Ten Future Star attractions: Lee Diamond", New Music Express, 9 June 1961
---
Not to be confused with either Australian 60s band The Cherokees (see, for example, Minnie The Moocher) or The Cherokees from Leeds, who had a minor hit with Seven Daffodils, produced by Mickie Most (1964, #33 UK).
And let's not confuse The Off-beats with the Australian Off Beats led by Ray Hoff.
Based upon this initial disc release, I have a hunch that Lee – and his group the Cherokees – are destined for success.

Derek Johnson in NME June 1961