Judy Stone - Born A Woman (1966)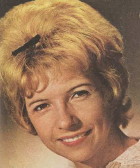 Single on ATA.
Co-charted with the original by Sandy Posey.
Judy Stone: popular Australian singer, a regular on the long-running TV pop show Bandstand, often on the charts in Australia from the early 60s to the mid-70s.
Further reading: Wikipedia article on Judy Stone.
---
Sandy Posey - Born A Woman (1966)

Single on MGM, May 1966, co-charted in Australia with the local cover version by Judy Stone.
Sandy Posey was a 1960s pop-country singer from Alabama (b.1944), a former studio receptionist who became a session singer in Memphis and Nashville studios: she backed Elvis, for example, and she is heard on Percy Sledge's When A Man Loves A Woman. Signed to MGM after cutting a demo version of Born A Woman, she was usually produced by Chips Moman, also by Joe South. Her career refreshed in the early 70s when she was signed to Columbia and aimed more squarely at the Country music market, later with Monument and Warner Bros.
---
Original version? Opinions differ on whether this version is the original. See above under Patty Michaels.
---
On CD: click on the album cover.
References, further reading: Sandy Posey bios at AllMusic and Wikipedia.
---
Patty Michaels - Born A Woman (1966)

Single on Epic, June 1966.
Patty Michaels (b. c.1950) was a child model who at the age of five became Little Miss Sunbeam, the face of New York's Sunbeam Bakeries. She appeared in the original Broadway production of The Sound Of Music from 1959, and appeared on TV variety shows including Sing Along With Mitch. Signed to Epic in 1965, she issued a handful of singles in the late 60s and went on to success as a performer at Las Vegas. She also did some acting: in the late 70s she played the wife of Andy Kaufman's cabaret character Tony Clifton on stage.
---
Original version? John Grecco & Phil Milstein at Spectropop, have called this as the original, but the equally reliable Joop Jansen has given release dates of May 1966 for Sandy Posey and June 1966 for Patty Michaels (The Originals, thread deleted), something that 45cat.com now goes along with (here and here). More news as it comes to hand…
---
Reference, further reading: John Grecco & Phil Milstein, Lavender Girl: The Patty Michaels Story at Spectropop.
---
Martha Sharp - Born A Woman (1973)

Track on 1973 Monument album Any Woman by the writer of Born A Woman. The album also includes Single Girl, another Martha Sharp composition that was a hit for Sandy Posey [Monument discography at BSN].
Sandy Posey and Martha Sharp are not the same person, as has often been claimed. See, for example, Charles D. Hill's putdown of this theory at The Chaz Music Room.
As an executive at Warner Brothers in Nashville, Martha Sharp gave Faith Hill her first break.
---
Nick Lowe - Born A Woman (1977)

On the EP Bowi, on Stiff, by the label's house producer Nick Lowe (b.1949), an enduring and influential singer-songwriter (Cruel To Be Kind), pub rocker (Brinsley Schwarz), post-punk producer (Elvis Costello) and associate of Dave Edmunds (Rockpile).
Further reading: For a starter, follow the links above to AllMusic.com articles.
---
Connie Smith - Born A Woman (1967)

Track on RCA album Downtown Country. Highly regarded country singer and Grand Ole Opry member Connie Smith (b.1941) has had many Country chart hits and picked up numerous Grammy, Billboard and Cash Box awards in that field.
Further reading: 1. Connie Smith at Grand Ole Opry. 2. Connie Smith Wikipedia article. 3. Connie Smith at Rock & Country Encyclopedia & Discography.
On CD: click on album cover.
---
Jan Howard - Born A Woman (1966)
On Decca LP Bad Seed. Grand Ole Opry menber Jan Howard (b. Lula Grace Johnson, 1930) was once married to major Country songwriter Harlan Howard who wrote her signature tune Evil On Your Mind. She often sang in duets with Bill Anderson and was a regular in his TV and stage companies.
References, further reading: 1. Jan Howard at Grand Ole Opry. 2. Bad Seed details at LPdiscograhy.com. 3. Jan Howard at Wikipedia. 4. Howard Harlen at Wikipedia.
---
Jean Shepard - Born A Woman (1967)

On Capitol LP Your Forevers Don't Last Very Long by honky-tonk-style country singer. Jean Shepard (b.1933), a Grand Ole Opry member for almost 60 years, had her first country and mainstream hit in 1953 with A Dear John Letter, in duet with Ferlin Husky. She was married to country singer Hawkshaw Hawkins when he died, along with Patsy Cline and Cowboy Copas, in a 1963 plane crash.
References, further reading: 1. LP details at LPdiscography.com. 2. Jean Shepard at Grand Ole Opry. 3. Jean Shepard biography by Stephen Thomas Erlewine at AllMusic.
---