Single on Leedon. In Melbourne the B-side, You Excite Me, also charted. Re-released in 1967.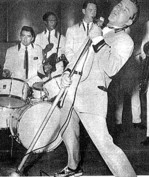 For more on J.O'K. (1935-1978), Australia's King of Rock'n'Roll, see his defining, much-covered record The Wild One (1958).
O'Keefe has a co-writer credit for The Wild One, but Why Do They Doubt Our Love is exceptional among his charting singles for having been written by him alone. He also wrote the theme song to his TV music show Six O'Clock Rock.
Thanks to Terry Stacey for the suggestion and the version alerts.
---
Roy Sone - Why Do They Doubt Our Love (1959)
Single on Decca by British actor and singer mainly active on the stage.
---
Jade Hurley - Why Do They Doubt Our Love (1976)

Single on Festival by songwriter-pianist whose big break came with his appearance on Johnny O'Keefe's Six O'Clock Rock in August 1959 when he changed his name from John on JO'K's advice.
See Jade Hurley's Gold and Silver for more details.
Further reading: Jade Hurley page at Tamworth Rage.
---
Warren Williams - Why Do They Doubt Our Love (1961)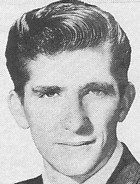 Single on Leedon by Sydney singer and songwriter (b. 1940) who had several charting singles in the first half of the 60s (especially in Sydney), initially with The Squares but mainly as a solo artist. He was regularly seen on TV pop shows, including Six O'Clock Rock and Bandstand.
Why Do They Doubt Our Love was the B-side of A Star Fell From Heaven.
---
Johnny O'Keefe - Why Do They Doubt Our Love (1967)
Re-release on Leedon of Johnny O'Keefe's song from 1959. The A-side, Just A Closer Walk With Thee, was another previously released song, from 1961 on the EP Jubilee.
Thanks to Tony Watson
---