Single on Leedon by Johnny O'Keefe (1935-1978), Australia's biggest star of the rock'n'roll era, known to Australians as The Wild One, The King of Rock'n'Roll or just J.O'K.

Johnny O'Keefe himself wrote the theme song for Six O'Clock Rock, the Saturday evening teenage music show he took over on the government network ABC-TV in 1959. C'mon everybody it's six o'clock, ah-huh, ah-ha-huh/ Come on everybody it's time to rock, ah-ha-huh, ah-ha-huh…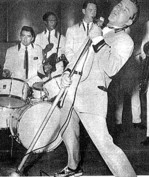 This might have sounded out of character for the staid old "Auntie" ABC in 1959, especially since J.O'K. didn't fit the cleancut image of a Dick Clark or a Brian Henderson. Still, another respectable "auntie", the BBC, had set a precedent with its 6.5 Special from 1957.
Compositions by Johnny O'Keefe were not a feature of his repertoire, but they were not unheard of. Apart from the best-known example, his co-writer credit for The Wild One, O'Keefe's recording of his own Why Do They Doubt Our Love charted in three cities and was covered by others.
References, further reading: 1. Tony Harrison, The Australian Film and Television Companion (1994), p.314. (It wrongly has JO'K starting Six O'Clock Rock in 1961, the year he quit.) 2. Overview at johnnyokeefe.com of Johnny O'Keefe's TV shows Six O'Clock Rock, The Johnny O'Keefe Show, Sing Sing Sing, and Where the Action Is. 3. Wikipedia entries on Six O'Clock Rock and 6.5 Special.
Video of Six O'Clock Rock opening credits at YouTube (official ABC-TV).
Suggestion from Terry Stacey who heard this on Vintage FM 87.6 Penrith in November 2011.