Warren Williams - A Star Fell From Heaven (1961)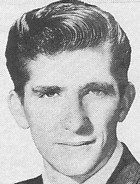 Sydney singer and songwriter Warren Williams (b. 1940) first performed with his rock'n'roll band The Squares early in 1958. He had several charting singles in the first half of the 60s (especially in Sydney), initially with The Squares but mainly as a solo artist. He was regularly seen on TV pop shows, including Six O'Clock Rock and Bandstand.


This ballad was later included on a 1962 EP on Leedon, Warren Williams Sings Famous Tenor Solos. The EP comprised songs from the pre-rock'n'roll era, light classics usually associated with Joseph Schmidt (A Star Fell From Heaven) and Richard Tauber (Girls Were Made To Love And Kiss, Pedro The Fisherman, Vienna City Of My Dreams).
As a youngster, Warren Williams had begun singing in a church choir, and he appeared as a choirboy in the 1953 film Wherever She Goes.
---
References: Ian McFarlane, The Encyclopedia of Australian Rock'n'Roll; Chris Spencer et al, Australian Rock Discography 1956-1969; Gavin Ryan's Australian Chart Books; Screensound Australia's First Wave discography (.pdf).
See also the All Music Guide entry on Warren Williams.
Josef Schmidt - Ein Stern fallt vom Himmel (1934)
From the film Ein Stern fällt vom Himmel (1934), remade in England as A Star Fell From Heaven (1936). The artist's name is often Anglicised to Joseph Schmidt.
Josef Schmidt also recorded the song in English as A Star Fell From Heaven.
Josef Schmidt (1904-1942), popular tenor and film actor of the 1930s, was born in Romania of German-Jewish background. His early career was established in Berlin, but he lived in exile in various European countries after the rise of the Nazis, and died in a Swiss internment camp. (See the Josef Schmidt page at GrandTenori.com.)
Joseph Schmidt had one of the most powerful tenor voices ever recorded. To hear him, even as recorded in the 1930s, is to hear one of the most transcendent voices of the century. – Bruce Eder at All Music Guide.
The song is also known as A Star Falls From Heaven (as recorded, for example, by Artie Shaw, c.1938).